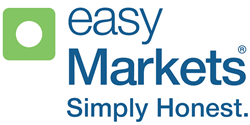 LIMASSOL, Cyprus (PRWEB) October 18, 2019
The 2019 summer had been very crowded for easyMarkets, one of the leading online trading companies, which had managed to sign an important sponsorship contract with Real Betis Balompié, a popular Spanish football club. At that time, the brokerage company mentioned a lot of surprises involving the club are pending for its customers and just recently the "Travel with the team" promotion had been announced.
Unique opportunity to travel with Real Betis in November
The promotion designed by easyMarkets is giving its top two performing partners the unique and once in a lifetime opportunity to travel with Real Betis to the match with Real Madrid which will take place on November 2nd.
People who want to get involved in the promotion must register with easyMarkets as an affiliate and register at least 25 new active clients. The top two affiliates with the highest number of active clients will win and will have the privilege of traveling with the team for the match which will take place in Madrid.
For the top spot, the awards cover a wide range of features. There's a valuable winning package worth thousands of euro and includes accommodations, the travel from your country to Seville, the travel by train with the Real Betis players, and of course, tickets for the match. The first runner up will get general tickets for the game, hotel room with breakfast (4-stars hotel) and two Real Betis shirts.
La Liga continues to be one of the most exciting leagues in the world and the new season had already provided several surprises. Both Barcelona and Real Madrid disappointed in the first 7 matches, leaving the battle at the top open. Real Betis had huge expectations before the first match, but so far, the team grabbed 8 out of 21 points possible, showing that there's still time needed for accommodation.
With a new coach, several important departures and new signings, Betis stands on the 15th spot, 5 points away from the 5th place which leads to the Europa League qualifications. There are a lot of matches to be played and the November 2nd clash with Real Madrid will be one to be watched. Last season, the team managed to provide one of the biggest surprises of the league, beating "Los Blancos" at the Bernabeu. With the easyMarkets "Travel with the team promotion" two lucky winners will have the chance to see Betis at work again.