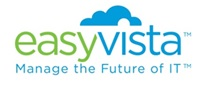 This survey shows that IT professionals want to do more with less, and that rigid solutions can hold them back from doing so.
New York, NY (PRWEB) October 14, 2014
EasyVista Inc. (http://www.easyvista.com), a global leader in cloud-based IT Service and Asset Management, today announced the results of the 2014 EasyVista ITSM Trends Survey. In this recent survey of IT professionals which did not include EasyVista customers, it was concluded that 55% of respondents were unable to leverage their ITSM solution beyond IT processes. At the same time, if they could extend their ITSM to non-IT functions, 59% of the respondents said that automating human resources would be their first priority, followed in order by facilities management, customer service, and sales and marketing.
The survey revealed a number of other statistics regarding what is holding these IT professionals back, how they rate their service level and how they perceive themselves as ITSM professionals.
A major issue for IT departments is their ability to demonstrate value to the business. 53% of respondents stated that they feel IT is undervalued.
In terms of service and responsiveness, the survey data revealed duelling perspectives: while 65% of the IT professionals rated their responsiveness with four or five stars (out of five), only 48% believed that their fellow employees would award them the same rating.
The survey data also raises some alarms for those using on-premise solutions, and those using solutions that require the coding of customizations. According to the survey, 50% of respondents were not using the most recent version of their on-premise solution due to upgrade challenges, and 78% of respondents said that ITSM customizations require two or more workers to implement with their existing solution. Having numerous dedicated staff could cost organizations hundreds of thousands of dollars annually to administer these tools.
"Flexibility is key to IT service management," said Andrew White, EVP Marketing and GM, Americas of EasyVista. "This survey shows that IT professionals want to do more with less, and that rigid solutions can hold them back from doing so. Flexible and configurable, SaaS-based ITSM solutions enable organizations to be more innovative, and do things like automate HR and other critical business functions."
In regards to IT Infrastructure Library (ITIL) adoption, 50% of survey respondents wanted to implement these best practices, but 30% claimed that their current ITSM solution is holding them back from doing so.
The EasyVista survey also uncovered some curious insights into how IT professionals believe they are perceived by their co-workers due to their current ITSM solution. According to the findings:

6% of IT respondents believed others view them as someone that 'blends into the crowd.'
A whopping 44% believed others view them as 'reactive,' but as someone who gets things done with their current ITSM solution.
Only 28% believed their current solution enables them to be seen as a proactive 'rock star.'
EasyVista has published the survey results, which can be found here: http://www.easyvista.com/en/cta-forms/easyvista-2014-itsm-trends-survey/
EasyVista's leading IT Service Management solution is available via SaaS or on-premise, and provides an easily configurable environment to integrate workflow and asset management, create service catalogs that streamline processes, and deliver responsive, organization-wide support.
About EasyVista
EasyVista Inc., a leading provider of IT Service and Asset Management software, has more than 25 years of experience as a pure player in the IT Management space. The company has a direct presence around the world with offices in the US, Canada, France, Germany, UK, Italy, Spain and Portugal. EasyVista is quoted on NYSE Alternext exchange. For more information, visit: http://www.easyvista.com.