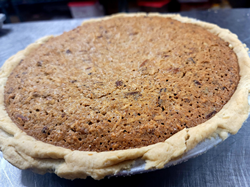 The holiday season is quickly approaching and for those who are looking to lighten the load of preparing meals and to spend less time in the kitchen, consider ordering a dessert from a locally-owned establishment.
KNOXVILLE, Tenn. (PRWEB) November 17, 2020
While the turkey may take centerstage, a good dessert is what really matters when it comes to holiday meals. Holiday gatherings may be smaller this year due to the coronavirus pandemic, but there is no need to skip on the last course of the meal. A good meal should be followed by a scrumptious dessert. Whether it's an elegant cake, descendant pie, creamy cheesecake or mouthwatering cookies, the Tennessee River Valley is home to many locally-owned restaurants and bakeries that still prepare desserts the old-fashioned way, by hand using fresh ingredients.
"The holiday season is quickly approaching and for those who are looking to lighten the load of preparing meals and to spend less time in the kitchen, consider ordering a dessert from a locally-owned establishment. These places can be a holiday lifesaver no matter the size of gathering," said Julie Graham, spokesperson for the Tennessee River Valley Stewardship Council.
The Tennessee River Valley Mapguide has put together a must taste and experience list to showcase some of the region's top headquarters for sweet treats and descendant desserts. For those that cannot make a visit before the holidays or do not live nearby, some offer shipping as an option.
Sageberry Restaurant & Catering, Centre, Ala.
Sageberry Restaurant and Catering specializes in gourmet cakes for all occasions. To add elegance to family gatherings, try their chocolate layer cake decorated with luscious fresh fruit and pirouette sticks filled with milk chocolate cream or their cheesecakes decorated with frosted fruit as well as fresh fruit.
Big Bob Gibson Bar-B-Que, Decatur, Ala.
Big Bob Gibson Bar-B-Que may be known nationally for its barbeque, but another crowd favorite are the homemade pies. The pies are mare made from scratch and baked fresh every morning using recipes and traditions that have been passed down for generations. Sold whole or by the slice, choose from chocolate, pecan, lemon icebox, coconut cream and peanut butter.
Morgan Price Candy Company, Decatur, Ala.
Morgan Price Candy Company has been in operation for over 30 years where they still do everything the old fashioned way, by hand and in small batches using old family recipes. Customer favorites include English toffee, peanut brittle and creamy pralines. A sweet treat from Morgan Price Candy Company makes a nice hostess gift for holiday events and candy baskets, boxed chocolates and corporate gifts are also available. If not in the Decatur area, they will ship.
Apple Valley Orchard, Cleveland, Tenn.
This family-owned business that started as a hobby in the early 1960s with two trees now occupies over 40 acres and grows 30 varieties of apples. Fried pies are considered a tradition of the South and some of the best ones come from Apple Valley Orchard. The on-site bakery also offers homemade pies and apple cider.
Tellico Grains Bakery, Tellico Palins, Tenn.
Gourmet pastries and baked goods are crafted from scratch daily, using traditional methods and many locally sourced ingredients. Selection varies depending on the season. Items found on any given day include chocolate croissants, cream cheese danishes, scones, carrot cake muffins, chocolate ganache cupcakes, sticky nut buns, cherry and apple turnovers and pound cakes.
The French Market Creperie, Knoxville, Tenn.
Knoxville's first and only authentic French crêpe restaurant, The French Market is considered one of the top southern eateries for breakfast and brunch in the U.S. It also satisfies a sweet tooth. For a bit of a French influence during the upcoming holiday season, choose one of their sweet crêpes filled with fresh squeezed lemon and sugar, fresh strawberries and cream, or the popular Nutella, a chocolate hazelnut spread admired all over Europe.
Waverly Café offers an assortment of pies, cheesecakes and gourmet carrot cakes. Catering is also available. For more information, visit https://waverlycafe.webs.com/.
Sweet Jordan's Baked Goodies and Ice Cream Shop, Paris, Tenn.
The story of Sweet Jordan's begins with Jordan, who was born with Down's syndrome. He always loved to be in the kitchen with his dad baking and sharing their delicious bounty with friends and family. The most popular item came from a family, chocolate chip cookie recipe. Soon, their baked goods became so popular and Sweet Jordan's Baked Goodies and Ice Cream Shop opened in 2017. With Jordan at the helm, the family-owned business employs adults with special needs who everyday whip up baked goods, soup, sandwiches, homemade ice creams, coffee and signature cookies. Items may be ordered online at https://www.sweetjordans.com/collections/sweet-treats and shipped.
Dutch Maid Bakery, Tracy City, Tenn.
The Dutch Maid Bakery can make any special occasion cake. With an incredible number of flavors, frostings and fillings, the possibilities are endless. Choose from the traditional vanilla, chocolate and strawberry or vary it up a bit with pineapple, watermelon, key lime, coconut or white chocolate flavor. Choices in fillings include cannoli, cherry, chocolate bavarian, vanilla bavarian, fresh strawberries, German chocolate, ice cream, lemon and pineapple. Specialty cakes require at least a 48 hour advance notice. Everything made and served in the Dutch Maid Bakery is done from scratch and by hand.
Kirchhoff's Bakery, Deli and Market, Paducah, Ky.
This fifth-generation German bakery features traditional Old-World methods and family recipes. Known for their artisan breads, Kirchhoff's also offers a wide variety of made-from-scratch cookies including classic round, apple cider and iced shortbread, cakes and pies. While not a dessert, the cranberry walnut rolls are equally popular and a nice accompaniment for holiday dinners. A list of their Thanksgiving specials is available here for ordering.
Patti's 1880's Settlement, Grand Rivers, Ky.
Grand Rivers is the northern gateway to one of the United States' largest national outdoor recreation areas, The Land Between The Lakes. Visitors travel from all over to experience the 200,000 acres of water, 200 miles of scenic trails and spectacular views. No visit would be complete without a stop at Patti's 1880's Settlement, known for its classic American eats. One word of caution, don't forget to save room for dessert. Their pies are just as popular as their staple entrée, two-inch thick pork chops. Online ordering and shipping is available for six of their popular pies by clicking here.
At this time, due to social distancing rules and regulations, many locations have been temporarily closed or have modified hours. Please call or email to confirm hours of operation before traveling. Save trip ideas and plan a trip easily with the Tennessee River Valley Geotourism MapGuide, an online guide of authentic places and adventures that have been recommended by locals. For more information, visit https://tennesseerivervalleygeotourism.org/.