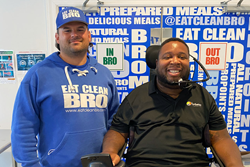 Download the app. Show some love and together we'll make the world a better place.
FREEHOLD, N.J. (PRWEB) October 24, 2020
Jamie Giovinazzo and Eric LeGrand, the Chief Branding Officer of Forbeto Corp, share a common mission to give back and help others. LeGrand founded the company during the quarantine in 2020. Forbeto strives to bring people, businesses, and charities together for the purpose of creating a better tomorrow. The goal is to create a platform where consumers can support charities and local businesses at the same time.
"When Eric called me about the opportunity to partner up with his Forbeto app, I couldn't say yes fast enough. He is an inspiration to people all over the world with his positive attitude. Eric continues to find ways to help others and that is something I am passionate about as well. Download the Forbeto app. Show some love and together we'll make the world a better place." said Giovinazzo.
Becoming a member of the Forbeto community is free. Each month the listener will receive access to offers on the application from local business which earns you credits. The credits earned then become actual dollars that the consumer can donate to any charity in the Forbeto directory.
Eric said, "I'm excited to partner with Eat Clean Bro. Jamie is always looking for ways to give back to the community and Forbeto gives us the opportunity to work together and spread the love to those who need it most."
Based in Freehold, NJ, Eat Clean Bro is a rapidly expanding high quality meal delivery service. By eliminating unnecessary time and effort spent trying to prepare healthy meals, Eat Clean Bro ships and delivers fresh meals to customers doors along the East Coast and just opened a secondary distribution center in Atlanta, Georgia. The customer-centric brand is focused on "Our singular, driving purpose is to inspire change. Eat Clean Bro's mission has always been, and will continue to be, a concerted effort to make the world healthier and happier as a whole, and it starts with YOU!" For more information on Eat Clean Bro, visit http://www.eatcleanbro.com, and follow us at https://www.facebook.com/Eatcleanbro/ or @eatcleanbro on Instagram."