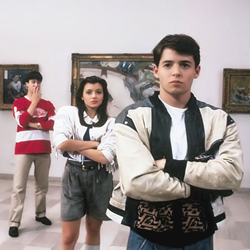 It's been 30 years since Ferris Bueller's Day Off first debuted in theaters, and it's still one of the best comedies of all time.
Los Angeles, CA (PRWEB) June 02, 2016
LA Movies in the Park series Eat|See|Hear announces two upcoming events for the first two Saturdays in June. The classic comedy, Ferris Bueller's Day Off, will be shown on June 4, and the sci-fi adventure thriller, Jurassic Park, will be presented on June 11. Both events will take place at the North Hollywood Recreation Center, located at 11430 Chandler Blvd., in North Hollywood. Showtime each night is at 8:30 p.m.
"It's been 30 years since Ferris Bueller's Day Off first debuted in theaters, and it's still one of the best comedies of all time," says Sharon Sperber, co-owner of Eat|See|Hear. In this classic coming-of-age film, high school senior, Ferris, calls in sick, "borrows" his friend's father's Ferrari, and goes on a one day adventure through the streets of Chicago with his buddies. The high school principal goes on a search for Ferris, determined to catch him in the act of skipping school, but in the end, finds the chase more trouble than he bargained for.
First appearing in theaters in 1993, Jurassic Park is another classic that has stood the test of time. In this Steven Spielberg film, a wealthy entrepreneur creates a theme park featuring living dinosaurs drawn from prehistoric DNA. Before opening day, he invites a team of experts and his two grandchildren to experience the park and help calm anxious investors. However, the park is anything but amusing as the security systems go off-line and the dinosaurs escape.
Both events will include a live band performance at 7 p.m. On June 4, Jaime Wyatt & the Bang Bangs will be on stage, performing their mix of vintage 1960s and 70s country, rock and soul anthems, and heartfelt ballads of love. On June 11, the Los Angeles-based band, Night Lights, will play their eclectic assortment of indie, rock and soul-influenced sounds.
Doors open at 5:30 p.m. to allow guests plenty of time to find seating and order their food before the entertainment starts. "This location is a sprawling, grassy baseball field, so you will want to bring pillows, cushions or blankets to sit on," Sperber says. "Low chairs with low backs are also allowed. If you have a tall lawn chair or camping style chair more than six inches off the ground, you will be required to sit outside the center of the venue."
A wide variety of food vendors will be on site for both events. "You can count on there being a large selection of vendors and menus each week, and that includes multiple vegan and vegetarian options, as well as some gluten-free food choices," Sperber says. Food trucks will be open for business starting at 5:30 p.m.
Parking (both free and metered) is available along the street, and in several different Recreation Center lots. There is also a pay lot on Lankershim behind the Laemmle Theatre, a surface parking lot behind the Federal Bar, and the Metro parking lot. Guests are asked to enter the event at the entrance on Chandler Blvd., just west of Tujunga.
General admission tickets are $14 each for adults and $8 for children 5 to 12 years old when purchased in advance. Children age 5 and under are free. Purchase tickets online for the June 4 event, and for the June 11 event. Tickets can also be purchased at the door the night of the event.
In addition to general admission tickets, a limited number of "Fashionably Late" passes are available for $21 each. "These VIP tickets provide a reserved section near the front of the venue, so you are guaranteed to have a great view regardless of what time you arrive." Sperber says. Fashionably Late tickets must be purchased in advance online, and are not available for sale or upgrade at the door.
For further information about Eat|See|Hear's upcoming events for summer 2016, please visit the event schedule.
About Eat|See|Hear:
Voted "Best Outdoor Movie Series" by Los Angeles Magazine in 2014, the Eat|See|Hear outdoor movie, food truck and live music event series brings an evening of fun to Los Angeles-area venues each summer. The fourth annual series is presented by SHOWTIME NETWORKS, featuring up-and-coming bands from the local music scene, the hottest food trucks and the largest inflatable movie screen on the west coast with the highest quality HD-projection with a 52-foot wide image and professional sound. Eat|See|Hear promises an enjoyable movie-going experience for everyone, including dogs. Each event and is produced by LA-based experiential marketing agency, Trailhead Marketing, Inc. For more information visit http://eatseehear.com.