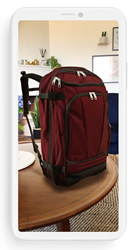 For shoppers used to purchasing in stores, we had to rethink the experience and clear some of those friction points and hurdles that come from not being there in person.
CULVER CITY, Calif. (PRWEB) July 15, 2020
Vertebrae, the technology leader in web-based 3D & augmented reality (AR) solutions for retail, today announced that it has partnered with travel outfitter eBags to achieve double-digit sales and conversion growth using immersive commerce experiences that overcome key online purchase hurdles.
Using Vertebrae's patented Axis platform, eBags has enhanced its top-selling private-label backpacks, organizers, and carry-on luggage with 3D imagery that enable shoppers to spin and flip virtual products to examine details such as straps, zips, and pockets up close, while AR experiences that place virtual products in real-life environments help accurately gauge size and scale. eBags quickly found that products featuring 3D and AR saw a marked improvement in sales. For shoppers who interact with 3D and AR, conversion rates have increased 112% on mobile devices and 81% on desktop browsers, and revenue per visit increased by 87%.
Not only has eBags' rollout of 3D and AR with Vertebrae boosted sales; it's also proven consumers' willingness to try immersive shopping. Thanks to the seamless integration and easy-to-use design, eBags' highest engaged shoppers are 35% more likely to convert when supplementing traditional photography with 3D and AR.
"As an online-only retailer, eBags has always prided itself on innovating to deliver experiences in different media and different channels according to consumers' changing preferences for Internet content," said Chris Seahorn, Senior Vice President of Marketing and Merchandising for eBags. "We've seen an evolution from static, flat images to video, which we invested in heavily as a way for us to engage in dynamic product storytelling. 3D and AR are the next steps in that evolution, empowering shoppers to be truly interactive and place products virtually in the context of their real-world surroundings and their lives."
This approach has proven especially helpful during the COVID-19 pandemic, as consumers accustomed to viewing and trying products in stores seek out online alternatives, and need help overcoming reservations about whether products would arrive on their doorsteps looking just as they were pictured online. Using 3D and AR, they're able to examine products up close and accurately gauge size and scale. Vertebrae's tools have helped eBags maintain week over week growth since April, beating expectations and benchmarks for the luggage industry overall.
"For shoppers used to purchasing in stores, we had to rethink the experience and clear some of those friction points and hurdles that come from not being there in person," Seahorn said. "There's a comfort level we knew we needed to provide, and in tandem with our warranties and easy return processes, the life-like product emulations in 3D and AR helped us set shoppers' minds at ease. We attracted new customers that hadn't gone online before to purchase travel products and accessories."
Now that the economy is reopening, eBags is well positioned to capitalize on its growth through new channels, thanks to the portability of its 3D and AR assets. Unlike app-based experiences that require a download to access, Vertebrae's immersive features can be placed anywhere on the eCommerce site path-to-purchase for both mobile and desktop users -- and with social media platforms and search engines quickly ramping up to include 3D and AR in their feeds, eBags is poised to deliver innovative experiences wherever consumers shop.
"The need for agility is one of the many lessons retailers are taking away from this challenging time, and Vertebrae's Web-based solution is positioned to help brands make the most of their 3D and AR assets -- now, in the immediate near-term as search and social 3D and AR take off, and in the future, when new Web environments we haven't even conceived yet will become brand touchpoints and require innovative, interactive content," said Vertebrae founder and CEO Vince Cacace. "eBags has a long standing commitment to customer-centric innovation, and we're proud to help take the brand to the next level."
About eBags
With more than 20 years in the travel goods industry, eBags is the leading online retailer of luggage, backpacks and travel-related accessories. The company, which is a wholly-owned subsidiary of Samsonite International, is devoted to helping its customers find the perfect travel gear for any journey. eBags has sold more than 36 million bags and features more than 50,000 products from over 500 brands, as well as its own popular product line of essentials such as packing cubes, backpacks, and luggage. https://www.ebags.com/
About Vertebrae
Vertebrae provides 3D & augmented reality (AR) commerce solutions for the world's largest retailers. Vertebrae's technology enables web-based 3D & AR product visualization and try-on experiences that drive measurable results. The end-to-end platform makes the process of 3D asset creation, management, deployment, and reporting easy. Vertebrae's clients include Adidas, Toyota, Herschel Supply Co., Facebook, Coach, Microsoft, and many more. Vertebrae is headquartered in Los Angeles with offices in Austin. For more information, visit https://www.vertebrae.com.