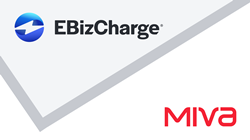 "Users can connect EBizCharge to their Miva shopping cart for a seamless payment processing experience that streamlines invoice collections with customizable settings and unlimited, quality support." -- Frank Khalid, Director of Software Engineering
IRVINE, Calif. (PRWEB) March 08, 2023
The integration, EBizCharge for Miva Merchant, allows Miva users to connect the EBizCharge payment gateway to their shopping cart to accept, add, and manage payments directly inside Miva Merchant.
EBizCharge for Miva Merchant enhances the payment processing experience for merchants and their customers by making it user-friendly, secure, and cost-effective.
As a highly customizable and PCI-compliant integration, EBizCharge for Miva Merchant allows customers to save default payment methods for future use. Merchants can also manage payment methods on behalf of their customers and run sales, pre-auths, captures, refunds, and voids.
"EBizCharge for Miva is a credit card processing module designed to work with the Miva store," said Frank Khalid, Director of Software Engineering at EBizCharge. "Users can connect EBizCharge to their Miva shopping cart for a seamless payment processing experience that streamlines invoice collections with customizable settings and unlimited, quality support."
EBizCharge for Miva Merchant works in harmony with the Miva Merchant eCommerce platform to allow secure and cost-effective payment processing for merchants and their customers.
About EBizCharge
EBizCharge is reinventing the way companies accept credit card payments with its all-in-one payment solutions. EBizCharge is one of the top payment gateway alternatives to its more expensive and inefficient counterparts and is specifically designed to reduce payment processing costs and enhance the overall payment collection process. EBizCharge integrates seamlessly with 100+ accounting, ERP, CRM, and shopping cart systems, including QuickBooks, Sage, SAP B1, Microsoft Dynamics, Epicor, Magento, Zoho, and WooCommerce. EBizCharge is partnered and certified with Microsoft Dynamics, Acumatica, SAP, Oracle, QuickBooks, WooCommerce, Magento, and many more. For more information, visit http://ebizcharge.com/.