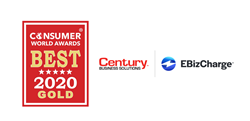 This award confirms our position as a leader in the integrated payment space.
IRVINE, Calif. (PRWEB) October 20, 2020
Century Business Solutions announced today that Consumer World Awards®, the world's top achievement awards program for the consumer industry, has named EBizCharge a Gold winner in the 10th Annual 2020 Consumer World Awards.
Consumer World Awards is a premier awards program that recognizes consumer products, companies, and people from all over the world.
Judges from a broad spectrum of industry voices around the world determined the 2020 award winners. Winners will be celebrated and presented their awards during a virtual awards ceremony in December.
Century Business Solutions was recognized in the New Product, Service, Upgrade or Innovation category for Financial Services for their integrated payment application, EBizCharge. EBizCharge seamlessly integrates with over 100 of the most popular accounting/ERP systems, CRMs, and eCommerce platforms to simplify payment collections and automate accounts receivable.
EBizCharge is transforming the payment processing landscape by offering merchants an all-in-one payment platform that lowers costs, increases efficiency with convenient technology, and protects merchants and their customers from fraud. EBizCharge combines merchant services, a payment gateway, an eCommerce bridge, point of sale solutions, integrated payment applications, payment collection tools, and a mobile app into one powerful suite.
"It's an honor to be named a winner by Consumer World Awards," said Matt Rogers, Senior Business Relations Manager. "This award confirms our position as a leader in the integrated payment space and reflects our ongoing commitment to provide our customers with cutting-edge solutions that address their challenges."
For a complete list of the 2020 Consumer World Award winners announced, visit https://consumerworldawards.com/winners/2020-winners/.
About the SVUS Awards
SVUS Awards are conferred in eleven programs: the CEO World Awards®, the Consumer World Awards®, The Customer Sales & Service World Awards®, The Globee® Awards, the Golden Bridge Awards®, the Info Security Products Guide's Global Excellence Awards® and Security World Awards, the Network Products Guide's IT World Awards®, One Planet® American + World Business Awards, the Pillar World Awards®, the PR World Awards® for Public Relations and Communications, and the Women World Awards®. Honoring organizations of all types and sizes and the people behind them, the SVUS Awards recognize outstanding achievements and performances in businesses worldwide. Learn more about the SVUS Awards at https://svusawards.com.
About Century Business solutions
Century Business Solutions is an all-in-one payment solution that provides payment processing technology to over 30,000 merchants in the U.S. and Canada. In 2017, 2018, 2019, and 2020, Century was ranked on the annual Inc. 5000 list honoring the nation's fastest-growing private companies. In 2018, 2019, and 2020, Century was also awarded the Silver Stevie Award for Payment Product and Service of the Year by the American Business Awards, the world's largest premier business award. Century develops fully integrated payment processing solutions for over 100 major ERP, CRM, and accounting systems. For more information, visit https://www.centurybizsolutions.net or https://www.ebizcharge.com.