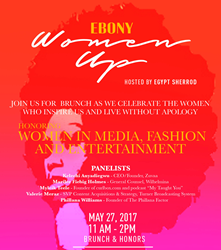 Our goal is to bring women together in three major markets as a celebration of our journeys, trials, tribulations and triumphs to success." - Linda Johnson Rice
Chicago, IL (PRWEB) May 26, 2017
EBONY, the premiere magazine for African-American cultural insights, news and perspective, and global hospitality leader HILTON, announce a partnership to salute the achievements of extraordinary women during the 2017 "Women Up" brunch series.
The highly anticipated annual brunch series will kick off in Atlanta, GA on May 27, 2017 and celebrate women in Media, Fashion and Entertainment hosted by television personality and real estate mogul Egypt Sherrod, along with panelists:
Kelechi Anyadiegwu, CEO and Founder, Zuvaa
Marilee Fiebig Holmes, General Counsel, Wilhelmina
Myleik Teele, CEO and Founder, curlbox.com and podcast "My Taught you"
Valerie Meraz, SVP of Content Acquisitions & Strategy, Turner's Entertainment Networks
Phillana Williams, CEO and Founder, The Phillana Factor
Latraviette D. Smith-Wilson, SVP of Communications, Sundial Brands
"We are proud to partner with Hilton to kick off the second annual "Women Up" brunch series in Atlanta. said Linda Johnson Rice, Chief Executive Officer of EBONY Our goal is to bring African-American women together in three major markets as a celebration of our journeys, trials, tribulations and triumphs to success."
EBONY Women Up Brunch commemorates the brand's commitment to African-American women as an extension of its annual Women's issue, featuring brilliant enterprising women who are industry leaders and waymakers, such as U.S. Sen. Kamala Harris​, journalist and activist, Soledad O'Brien​, White House Champion for Change awardee Kathryn Finney, and ESPN's Jemele Hill.
The subsequent brunches will be held at select Hilton Properties in July in Seattle, WA celebrating women in Sports during WNBA All Star Weekend and September in Philadelphia celebrating women in Business and Technology during the NBMBAA Conference. The "Ebony Women Up" brunch series is presented by Hilton and sponsored by Shea Moisture.
Stay tuned to Ebony.com for highlights and behind-the-scenes access to EBONY Women Up. Follow us on Twitter and Instagram @Ebonymag #EbonyWomenUp. Join in the discussion on Facebook.
ABOUT EBONY
EBONY is the No. 1 source for an authoritative perspective on the multidimensional African-American community. The EBONY brand, including print, digital, and social reaches over 30 million monthly. EBONY media reflects the cross section of Black America as delivered by the best thinkers, trendsetters, activists, celebrities and next-generation leaders. EBONY ignites conversation, promotes empowerment and celebrates aspiration. EBONY magazine is the heart, soul and pulse of Black America, and a catalyst for reflection and progression. Follow and engage with us: @EbonyMag on Twitter, EbonyMag on Facebook, and Ebony.com on the Web. We are Black history. We are Black future
ABOUT HILTON
Hilton is a leading global hospitality company, with a portfolio of 14 world-class brands comprising more than 4,900 properties with over 800,000 rooms in 104 countries and territories. Hilton is dedicated to fulfilling its mission to be the world's most hospitable company by delivering exceptional experiences - every hotel, every guest, every time. The company's portfolio includes Hilton Hotels & Resorts, Waldorf Astoria Hotels & Resorts, Conrad Hotels & Resorts, Canopy by Hilton, Curio - A Collection by Hilton, DoubleTree by Hilton, Tapestry Collection by Hilton, Embassy Suites by Hilton, Hilton Garden Inn, Hampton by Hilton, Tru by Hilton, Homewood Suites by Hilton, Home2 Suites by Hilton and Hilton Grand Vacations. The company also manages an award-winning customer loyalty program, Hilton Honors. Hilton Honors members who book directly through preferred Hilton channels have access to instant benefits, including a flexible payment slider that allows members to choose exactly how many Points to combine with money, an exclusive member discount that can't be found anywhere else and free standard Wi-Fi. Visit newsroom.hilton.com for more information and connect with Hilton on Facebook, Twitter, LinkedIn, Instagram and YouTube.
About SheaMoisture
Since 1912, SheaMoisture has made its award-winning, shea butter-based skin and hair care products using family recipes handed down from founder and CEO Richelieu Dennis' grandmother, Sofi Tucker. As a young mother, Sofi sold her handcrafted shea butter creations to support her family in Sierra Leone and became known as a healer throughout the countryside. Because products are formulated to meet each individual's specific skin and hair needs, everybody gets love at SheaMoisture, and products are made with natural and certified organic ingredients. No Parabens, No Mineral Oil, No Formaldehyde, No Phthalates, No DEA, No Propylene, No Paraffin, No Petroleum. Shea butter is ethically-sourced from 15 women's cooperatives in Northern Ghana, as part of parent company Sundial Brands' purpose-driven Community Commerce business model. Through Community Commerce, the company creates opportunities for sustainable social and economic empowerment throughout its supply chain and communities in the United States and around the world, focusing on entrepreneurship, women's empowerment, education and wellness. A certified B Corp with a Fair for Life social and fair trade certification, the company engages in ethical and cruelty-free business practices and manufactures its products at its state-of-the-art facilities in Long Island, NY.