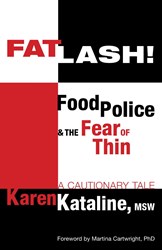 Many pageant moms suffer from "Princess by Proxy."
Denver, Colorado (PRWEB) August 20, 2013
The Ebook version of FATLASH! Food Police & the Fear of Thin has won two new awards from Dan Poynter's Global E-book Awards, the premier awards contest for ebooks in the country. The memoir by Karen Kataline, MSW, won silver medals in each of two non-fiction categories: Women's Studies and Current Events/Politics/Foreign Affairs.
Earlier this year, the print version of the book won three top awards including the $5000.00 Sponsor's Choice Prize from the National Indie Excellence Awards (NIEA) and was a finalist in the Foreword Reviews Book of the Year Awards.
FATLASH! is a first-person account of the long-term effects of child beauty pageants and forced dieting on children. The growing trend of parents who provocatively pose their children in pageants and programs like "Toddlers and Tiaras" make the revelations particularly relevant for today.
Kataline contends that there is a connection between the exploitation of children, and the unconscious reaction in some girls and women alike, to use weight as protection from sexualization, objectification and overexposure. Kataline says that "appearance obsession" and "obesity hysteria" make weight problems and eating disorders worse and includes in that category, well-meaning bureaucrats who attempt to control what other people eat through force or coercion.
The new term, "Princess by Proxy," is introduced in the book by Martina Cartwright, Ph.D, RD. who wrote the foreword. "Princess by Proxy" is a subcategory of Achievement by Proxy Distortion (ABPD), and is a pattern of adult behaviors that occurs when an adult's pride and satisfaction are achieved through a child's activities. The syndrome is rampantly evident in the child pageant circuit. The most extreme pageant moms are rewarded with exactly the kind of financial gain and recognition they seek.
Martina Cartwright, Ph.D, RD., is a registered dietitian with a Ph.D. in Nutritional Science and Biomolecular Chemistry from the University of Wisconsin-Madison and has written extensively about child pageants and eating disorders.
Kataline has been an advocate for educating the public on child sexualization but does not support the banning of beauty pageants. She believes they will be out of favor when the public understands why and how early sexualization damages children. She has also been an outspoken critic of Mayor Michael Bloomberg's food and soda bans and says they actually contribute to weight problems and eating disorders.
###
Karen Kataline, MSW received her master's degree from Columbia University and has practiced in a variety of non-profit and corporate settings. She has taught communications and public speaking at the New School for Social Research, Parsons School of Design in New York, New Jersey's Montclair State College, and Fairleigh Dickenson University, among others. FATLASH! won a first place Evvy Award from the Colorado Independent Publishers Association (CIPA) and was a finalist in the Foreword Reviews Book of the Year Awards.