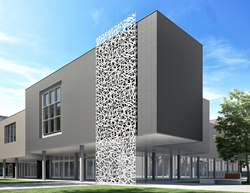 It's gratifying to have Aria Slim™ recognized for having garnered significant reader interest. We feel Aria Slim can be a great solution for adding a unique, modern linear profile for retrofit projects-- Dave Jackson, Brand Manager, Echelon
ATLANTA (PRWEB) January 30, 2020
Oldcastle APG announces that Aria Slim (TM) stone is named in retrofit Magazine's Top 50 Products special. The seventh-annual Top 50 Products appearing in retrofit's January-February 2020 issue, celebrates the products that received the most reader inquiries from the magazine's September-October 2018 through September-October 2019 issues.
"It's gratifying to have Aria Slim™ recognized for having garnered significant reader interest," said Dave Jackson, Brand Manager, Echelon. "We feel Aria Slim can be a great solution for adding a unique, modern linear profile for retrofit projects."
retrofit is the only print and online publication exclusively dedicated to covering the renovation of existing commercial, institutional and industrial buildings. Published bimonthly, the magazine is nationally circulated to approximately 45,000 architects, contractors, facility managers, building owners and government officials. The publication's Top 50 Products special in the January-February issue showcases the products that retrofit readers found the most intriguing.
Recognized for the ability to reduce installation time relative to other full-bed veneer products, Aria Slim Stone's exclusive 4" x 36" dimensions deliver long, clean lines that aren't achievable with any other masonry product on the market. Available in a selection of five colors and four finishes, Aria Slim units are perfectly suited for enhancing any exterior – commercial or residential.
A further testament to the power of Oldcastle APG's brands, its MoistureShield Vision capped composite decking product is also included among the retrofit Top 50 Products.
Learn more about Aria Slim Stone at http://www.EchelonMasonry.com.
About Oldcastle® APG - Echelon Masonry
Echelon Masonry is North America's largest manufacturer of the highest-quality masonry products for the architectural and masonry industries. As the consolidated masonry brand for Oldcastle APG, a CRH Company, Echelon offers the widest masonry portfolio in the industry, from trusted brands like Trenwyth to innovative product solutions like the InsulTech System, as well as the localized, one-on-one support needed to bring the most ambitious projects to life. Since 2015, Echelon Masonry has been committed to supporting the time-honored tradition of masonry and advancing the craft for the 21st century and beyond.