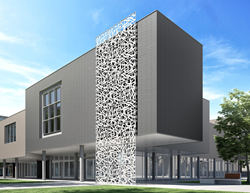 It is very meaningful to have Mirage and Aria Slim selected as Top 101 Products by Building Design + Construction's readers. Both are great solutions to any indoor or outdoor commercial project. -- Dave Jackson, Senior Brand Manager, Echelon
ATLANTA (PRWEB) February 28, 2020
Oldcastle APG announces its Echelon Veneers by Mirage and Aria Slim™ Stone have been named to Building Design + Construction's Top 101 Products of 2019. The magazine's December 2019 issue recognized products that generated the most reader inquiries from their January – November 2019 issues. Echelon is Oldcastle APG's masonry brand.
"It is very meaningful to have Mirage and Aria Slim selected as Top 101 Products by Building Design + Construction's readers," said Dave Jackson, Senior Brand Manager, Echelon. "Mirage veneers are incredibly durable and truly ideal for adding a touch of elegance to any indoor or outdoor project. Aria Slim stone is an excellent solution for adding a modern, linear aesthetic to commercial projects."
Building Design + Construction is dedicated to inspiring building teams by providing essential solutions, serving as an inspiration resource for nearly 60 years. The Top 101 Building products issue lists products from 2019 that generated a high level of reader interest.
Available in five colors and four finishes, Aria Slim Stone's exclusive 4" x 36" dimensions deliver long, clean lines that aren't achievable with any other masonry product on the market. It also reduces installation times relative to other full-bed veneer products.
With unmatched durability, Mirage veneers stand up to freeze/thaw cycles, fire, stains and mold. Mirage is available in three bold color collections: Quarziti (which grabbed reader attention in BD&C) in five colors that reflect natural landscapes; Ardesie in four colors with the look of natural elements; and Noon in four colors, which feature the look of distressed or fresh wood --perfect for today's Modern Farmhouse trend. The new line also coordinates with several items in the Belgard® porcelain paver collection, a sister brand.
Learn more about Mirage Veneers and Aria Slim Stone at http://www.EchelonMasonry.com.
About Oldcastle APG - Echelon Masonry
Echelon Masonry is North America's largest manufacturer of the highest-quality masonry products for the architectural and masonry industries. As the consolidated masonry brand for Oldcastle APG, a CRH Company, Echelon offers the widest masonry portfolio in the industry, from trusted brands like Trenwyth to innovative product solutions like the InsulTech System, as well as the localized, one-on-one support needed to bring the most ambitious projects to life.