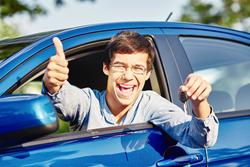 CULLMAN, Ala. (PRWEB) November 13, 2018
College students are making an investment in education and their future career. Eckenrod Ford Lincoln appreciates the time and money that college students put forth to better our country. Thus, the dealership is promoting their College Student Purchase Program offerings.
Students who can participate in The College Student Purchase Program include the following: active college/trade school students enrolled in an accredited four-year college/university, junior college, community college, or trade school; active graduate students; recent college graduates, who have graduated within the past three years; high school seniors or recent high school graduates with a letter of intent to attend a qualifying university; college student internship participants, trade school apprenticeship participants, and medical student residencies with limitations.
Students are ineligible if they are enrolled less than half time based on the specifications of an accredited college/university/trade school. English as a second language courses do not qualify, neither do on-the-job training courses or one-course completion certificates.
The College Student Purchase Program does require proof of eligibility. The following all qualify as proof of eligibility: copy of college/university diploma, copy of final transcript, letter from the college/university/trade school registrar's office stating conferred graduation date and type of degree earned, dated letter of intent confirming enrollment (valid for up to six months), and current class schedule. The document must state the student's full name and the name of the school they are attending. Student's between terms may choose to send in documents for the previous or future school terms.
Any of the above eligible people can receive $500 bonus cash with the College Student Purchase Program. This program applies towards the purchase or lease of an eligible new Ford vehicle, from the 2017, 2018, and 2019 model years. More information on which vehicles are included in the program can be found on the dealership's website, eckenrodford.com.
College students considering purchasing a new Ford vehicle should get in contact with the dealership's sales team. They can be reached by phone at 256-734-3361 or emailed from the dealership's website, eckenrodford.com. All interested college students and family members are encouraged to visit Eckenrod Ford Lincoln in person at 5255 Alabama Highway 157 in Cullman, AL 35058.