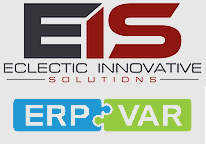 "ECLECTIC INNOVATIVE SOLUTIONS has demonstrated Acumatica platform master proficiency to meet customers' growing business automation demands, we are proud to introduce them to potential Acumatica clients," Adrian Montgomery, Founding Partner ERPVAR
DANA POINT, Calif. (PRWEB) May 04, 2021
ERPVAR.com announces a strategic partnership with ECLECTIC INNOVATIVE SOLUTIONS, a leading provider of Acumatica Cloud ERP software. The ERPVAR directory for Acumatica ERP consultants highlights ECLECTIC INNOVATIVE SOLUTIONS offerings.
ECLECTIC INNOVATIVE SOLUTIONS is committed to helping clients streamline business operations and provide subscription-based services around it. At the core of any growing company is technology that helps them automate and facilitate business processes. Many businesses start out using simple software solutions such as QuickBooks, and often extend that functionality by using other systems. These systems are often disconnected and include the use of many spreadsheets to supplement missing features. We get involved with companies when they realize that their technology backbone is not scalable, and they recognize the need and value of an ERP or have legacy ERPs that no longer meet their needs. EIS specializes in integration because it's an integral part of helping customers be successful with ERP.
About ECLECTIC INNOVATIVE SOLUTIONS
At EIS, we provide both Acumatica configuration and/or customization services for every engagement, depending upon your business needs. Configuration involves setting up the native features and functions of Acumatica and requires the skillset of our trained and certified Acumatica specialists. Customization involves extended Acumatica beyond its native features and functions and requires the skillset of our trained and certified Acumatica developers. We adhere to a our proven 4D methodology to complete every engagement. Your account manager is with you every step of the way, even after your engagement is complete and you transition to support.
About ERPVAR
Established in 2012 and headquartered in Orange County, CA, ERPVAR represents the collective expertise of Acumatica, Sage 100cloud, Sage 300cloud, Sage Intacct, Microsoft Dynamics GP, NetSuite and QuickBooks Enterprise third-party developers combined with the expertise of local implementation ERP consultants. These local ERP consultants provide end-users with a thorough needs analysis to determine which ERP software functionality is required to address their unique needs. If a business process assessment is required, the local channel partner is enlisted to provide a comprehensive examination with end-user company departments to ensure the correct ERP software is selected, implemented and the staff is professionally trained. For more information, please visit https://www.erpvar.com.