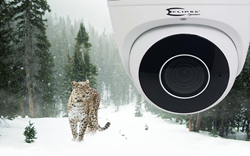 HOLLYWOOD, Fla. (PRWEB) December 06, 2018
Eclipse Security is proud to be a leader in 4K Advanced Intelligent Imaging Systems. Eclipse 4K solutions offer Ultra-High Definition Images (Up to 12MP) coupled with an expanded field of view. This allows an operator to see more with less. Eclipse offers many lens configurations to ensure proper pixels on target to make your captured video actionable. Eclipse uses a very efficient H.265 CODEC to ensure low network utilization and extended storage. Our new lineup offers flexible options including: Fixed Dome, Fixed Bullet, Motozoom Dome and Motozoom bullet camera options. These advanced imagers are further enhanced with Eclipse's Intelligent Surveillance features:
Facial Detection is helpful when maximizing storage while limiting false notifications. This advanced motion sensing system can determine whether a subject is a person or just another object moving through the scene. When a person is detected, the system will proactively alert the selected operator and create a bookmark with the subject of interest as a thumbnail for quick review and action. One touch export of desired events makes follow up simple and effective.
Line Crossing assists the operator to create an active barrier of protection and send an alert when a subject of interest (Person, Object, etc.) crosses a pre-defined threshold. This powerful event trigger can engage PTZ cameras and other devices on your system to create a comprehensive response to events in real-time.
Perimeter Detection actively notifies an operator in the case of a person or object that violates a pre-defined secure space. This powerful event trigger can also coordinate a response with other imagers and countermeasures that are part of your total security solution.
Compliance and Cyber Security is critical for today's projects. Eclipse Signature Series is UL, FCC, CE, and RoHS compliant. Eclipse has taken several steps to secure our devices and software from malicious attacks as well.
Eclipse welcomes new integrators and government procurement personnel to contact us to learn more about how Eclipse Signature Series will help you serve your clients and special projects.
Eclipse Security is a security equipment manufacturer based in Hollywood, Florida. Established in 1998, Eclipse continues to serve security integration providers with effective surveillance solutions. Eclipse Signature Series is the latest video surveillance technology with advanced video analytic capabilities.