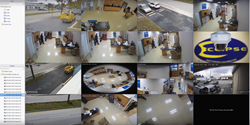 HOLLYWOOD, Fla. (PRWEB) August 06, 2018
Eclipse Security is fully prepared to handle the increase in government projects for video surveillance. In the rapidly changing marketplace, many government and critical infrastructure projects are now scrambling to find a compliant source for their suppliers. Eclipse has been working diligently with third-party software partners to integrate expanded feature sets required.
Facial Recognition and Automatic License Plate Recognition has been an increasingly sought after technology by government. Eclipse Signature Series products have been tested and proven as a successful hardware platform when connected to third-party solutions such as PlateSmart.
Video Management Systems (VMS) are widely used in the enterprise environment. Eclipse Signature Series is working with VMS providers ONSSI, Milestone, IP Configure, and others to have a tight integration. Eclipse Signature is ONVIF compliant and has been deployed on Salient, Spectrum, Omnicast, and other leading VMS options. Eclipse Signature Series also has a robust CMS option with no licensing fees.
Automation and Control is also a growing requirement. Eclipse Signature Series is natively integrated with Control 4 and supported by URC Universal Remote Control.
Compliance and Cyber Security is critical for today's projects. Eclipse Signature Series is UL, FCC, CE, and RoHS compliant. Eclipse has taken several steps to secure our devices and software from malicious attacks as well.
Eclipse welcomes new integrators and government procurement personnel to contact us to learn more about how Eclipse Signature Series will help you serve your government and critical infrastructure clients.
Eclipse Security is a security equipment manufacturer based in Hollywood, Florida. Established in 1998, Eclipse continues to serve security integration providers with effective surveillance solutions. Eclipse Signature Series is the latest video surveillance technology with advanced video analytic capabilities.