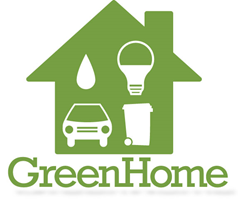 With more Americans doing all they can to stay "green" Eco-friendly security measures have becoming a high demand.
Boulder, Colorado (PRWEB) October 16, 2013
Most American families are looking for inexpensive ways to make their home more environmentally-friendly. Not only does an eco-friendly home protect the environment, but homeowners can also save money on utility bills, as well. The home safety and security professionals at SecuritSystemReviews.com, a site that provides home security system reviews and security system information, created a list of home improvement tips that can make a home a more environmentally-friendly place.
1. Use motion detectors on your outdoor lights. Motion detectors are one of the most valuable security system monitoring features, because they not only alert an alarm monitoring company that there may be an intruder, but they can also be used to control lights to prevent them from being on constantly. Instead, they'll only turn on when needed. The motion detectors used to trigger a security system are different than those used to turn on outdoor lights, but both types have similar purposes.
2. Clean air conditioning filters regularly, to make heating and air systems work more efficiently. This will also help reduce the allergens and increase the air quality in a home.
3. Use glass doors on fireplaces, as opposed to screens. Glass doors are safer than screens, and they also reduce the amount of heat that's able to escape through chimneys.
4. Seal areas within a home that may allow air to escape. Look for even unlikely areas, such as around electrical outlets.
5. Consider the installation of a home automation system. Most home automation systems are relatively inexpensive, and allow homeowners to control their home's systems, such as electricity, security and heating and air, even remotely, which cuts down on energy usage. Many home automation companies even have convenient mobile apps, so that homeowners can control everything in their home quickly and easily.
6. Apply tinted film to windows, which will reduce the glare of the sun. Window tinting can also reduce the amount of heat needed to warm a home in the winter, and the cold air required to keep a home cool during the summer. As an added bonus, tinting a home's windows can reduce fading to furniture and upholstery as the result of exposure to UV rays.
7. Replace a home's standard light bulbs with more efficient compact fluorescent bulbs. These bulbs typically last up to 10 times longer than standard bulbs, and are 70-75% more energy efficient.
About SecuritySystemReviews.com
SecuritySystemReviews.com is a third-party provider of information pertaining to the home security industry. The website provides reviews and comparisons of the country's top home security system companies, and also valuable coupons and discount codes which consumers can use toward the purchase of home security equipment and services.