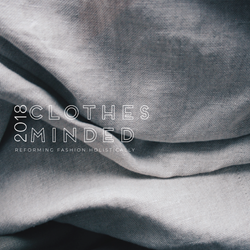 I went from a fashion addict to a fashion advocate. With $100,000 in debt all due to fashion, I realized I needed to change. I am choosing to share my story with the world to help change it. - Sustainable Fashion Designer and Environmental Activist, Isabel Varela
NEW YORK (PRWEB) October 08, 2018
Environmentalist and sustainable fashion activist, Isabel Varela, will address the malpractices disrupting the fashion industry and the psychological toll fashion is having on humanity (alongside National Geographic artist Asher Jay), during the groundbreaking "Clothes Minded" art exhibition at the Caelum Gallery from October 10 - October 13.
The event has sparked a conversation amongst industry leaders about the reality of fashion and what we can do to help make it better. The exhibition will revolve around multimedia art, sustainable fashion and a thought-provoking, compelling conversation about the industry.
Varela is a social activist, environmentalist, visual and mixed media artist whose video about being a minimalist and eco-friendly designer has gone viral with 80K views.
"I went from a fashion addict to a fashion advocate. With $100,000 in debt all due to fashion, I realized I needed to change. I am choosing to share my story with the world to help change it," Varela said.
Varela will showcase three separate installations, including two 10-foot sculptures to teach observers about the physical and mental burdens the fashion industry places on its workers and consumers.
Jay's installations will build on her prior campaign and exhibit "Message in a Bottle" on permanent display at National Geographic Encounter in Times Square.
"Not everyone gets to make an impassioned declaration and turn down a salaried position on 7th Avenue to instead find her calling on the Serengeti," said Asher Jay.This is how Jay went from a fashion designer to a creative conservationist.
"Art has a unique power to transcend differences and connect with people on a visceral level to compel action. The issues of today not only need to be articulated in an emotionally empowering vocabulary but inherently offer up solutions to the viewers. Conservation can no longer be marginalized. Today, we need everyone," Jay said.
Varela hopes to inspire men and women to make more conscious decisions when shopping for their wardrobe. The ultimate goal of the event is to educate the majority of people who are unaware of how deep the vein of abusive and unethical practices in the fashion run, while offering positive solutions.
"It starts with you and me. Together, we are capable of doing the right thing for ourselves, fashion and the environment," says Varela.
The four-day "Clothes Minded" event will be hosted by Isabel Varela. The event gala will be held on Wednesday, October 10 at the Caelum gallery. The gallery will be open to the public from October 11 - October 13, 2018. To join the #ClothesMinded2018 event, please visit isabelvarela.com or RSVP at isabel(at)isabelvarela(dot)com. Follow the sustainable movement on Instagram @iamisabelvarela.
About Isabel Varela
Isabel Varela is a positive fashion disruptor, zero waste artist, social activist and the creator of eco-friendly fashion brand, Isabel Varela. The brand offers a curated collection of eco-friendly womenswear. Varela uses locally-sourced fabrics and handcrafting production techniques. She also upcycles, taking old garments and bringing them back to life to offer her clients one-of-a-kind, bespoke pieces. Varela is now focusing her energy on hosting annual events and educating as many people she can on the idea of zero-waste and how we can fit it into our lives.
About Asher Jay
Asher Jay is an artist and a National Geographic explorer and public figure whose compelling paintings, sculptures, installations, animations, ad campaigns, and films all have a single purpose: to incite global action on behalf of wildlife conservation.