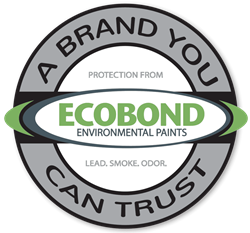 We are tremendously honored to have our lead paint treatment solution selected by Dr. Basta and we enthusiastically support the World Health Organization's International Lead Poisoning Prevention Week ~James M. Barthel, Creator of ECOBOND® Lead Defender®
ARVADA, Colo. (PRWEB) October 27, 2020
Dr. Nicholas Basta presented the findings of his lead paint treatment research study on ECOBOND® - LeadDefender® in a session titled: "Bioaccessibility and Extractability of Ecobond® Lead Defender® Treated Lead Based Paint"
Those interested may watch the webinar by visiting http://www.LeadPaintTreatmentWebinar.com
James M. Barthel, Creator of ECOBOND® Lead Defender® commented, "We are tremendously honored to have our lead paint treatment solution selected by Dr. Basta and we enthusiastically support the World Health Organization's International Lead Poisoning Prevention Week."
In June of 2017, ECOBOND® Paint LLC (ECOBOND®) entered into an agreement with Dr. Nicholas Basta from Ohio State University (OSU) a National Leading expert regarding the dangers of lead in the environment. The purpose for this program was to allow for a rigorous independent University validation of the positive effects of ECOBOND® Lead Defender® (ELD) on lead dust and lead paint hazards found commonly throughout the USA and especially in high Urban population centers. Recently the World Health Organization (WHO) reported: "The Institute for Health Metrics and Evaluation (IHME) has estimated that, based on 2015 data, lead exposure accounted for 494,550 deaths and loss of 9.3 million Disability-Adjusted Life Years (DALYs) due to long-term effects on health."
Dr. Nicholas Basta is a Professor of Soil and Environmental Chemistry at OSU. He is author of over 422 career publications; 111 of them in the last five years. He is on the Interstate Technology and Regulatory Council and the USDA CSREES Technical Committee. Internationally, he is also part of the Bioavailability Research Group of Europe, the Bioavailability Research Group of Canada, as well as on the International Committee for the International Conference on Biogeochemistry of Trace Elements.
Dr. Basta's research program is focused on risk-based in-situ remediation of metal contaminated sites and development / application of lab methods to evaluate the ability of soil treatments to reduce exposure (bioavailability, mobility) (for the last 20y). The research program is internationally known for its development and application of inexpensive in vitro gastrointestinal methods that are acceptable to USEPA for evaluating bioavailability (human and eco) in contaminated soil.
Dr. Basta's ECOBOND® testing included following EPA test methods for:

IVBA – In Vitro bio accessibility. This test is to simulate human ingestion
TCLP - Toxicity Characteristic Leaching Procedure. This test is to test for hazardous material
SPLP -Synthetic Precipitation Leaching Procedure. This test is to simulate affects from acid rain
WEXT – a de-ionized water extraction test (WEXT). This test is to test for effects of water
Conclusion: ECOBOND® Lead Defender® is a highly efficient, cost effective product for significantly reducing lead hazards through treatment as a primer, sealer or topcoat of a leave on application or waste disposal solution. The results of Dr. Bastia's independent analysis are consistent with other independent studies and with results obtained daily from the over 10,000 customers who purchase and use ECOBOND® on a wide variety of uses everyday across the USA.
Barthel continued, "ECOBOND® is the premier provider of environmental products focused on protecting human health from the dangers of lead and receiving the results from this research study from Ohio State University, validates the effectiveness of our patented a Lead Contaminated Surface Treatment (LCST), ECOBOND® Lead Defender®. This treatment effectively treats, and seals lead contaminated surfaces; thereby mitigating the potential for lead exposure hazards to humans and the environment. The challenge we faced when researching this solution was that a Lead Contaminated Surface Treatment (LCST) must seal lead contamination on surfaces as well as facilitate treatment of the underlying lead."
ECOBOND® Lead Defender® is that solution. It is a patented technology that integrates a proven state-of-the-art lead complexing treatment to help RRP contractors as well as homeowners needing a proven and reliable lead dust and paint solution.
The formula contains patented lead treatment reagents, paint penetrators and softeners designed to penetrate, bond, seal and treat existing lead dust and paint while controlling the spread of airborne lead. This product is resistant to acid rain leaching, has low odor, low VOC, a quick dry resin, has excellent adhesion, a low fire hazard due to its high flame resistant and paint qualities like a high end premium latex paint. It is also mold and mildew resistant and can be tinted in a wide range of colors.
To download the full research report with data, titled: "Bio accessibility and Extractability of Treated Lead Based Paint", visit https://ecobondlbp.com/learn/studies
About ECOBOND®
ECOBOND® Paint LLC is the Premier Provider of Environmental Products focused on protecting human health from the dangers of lead, smoke and odors in the home, workplace, and the environment. With over 15 years in patented and proven success, the ECOBOND® family of products have been extensively used in successfully treating lead hazards in over 11,000,000 tons of material while serving over 100,000 customers in the United States and Internationally.
The ECOBOND® family of products now includes Bitrex® a bitter-tasting additive to discourage oral contact! This creates an added safety barrier to further protect children from lead poisoning by reducing the amount of paint chips or dust a child may ingest. Bitrex® is the bitterest substance known and is added to ECOBOND® to reduce accidental ingestion of potentially harmful materials.
The Lead Problem Came in a Paint Can - the Solution Can Too! ECOBOND® - LeadDefender® is so much more than just paint!
Media Contact
James Barthel, President
14045 W 66th Ave
Arvada, CO 80004
(303) 456-6977