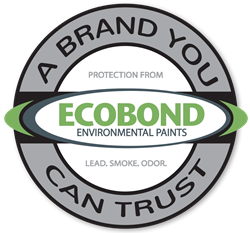 We are excited to be approved as a Menards® vendor and have our proven & patented ECOBOND® family of products
ARVADA, Colo. (PRWEB) July 07, 2020
Contractors and homeowners now have the opportunity to buy a revolutionary solution for lead paint and smoke and odors resulting from cigarette, marijuana, fire, and other drugs as well as pet and other annoying odors and numerous other indoor air pollutants.
To learn more, visit: https://www.menards.com/main/search.html?sf_categoryHierarchy=&search=ecobond+paint
"We are excited to be approved as a Menards® vendor and have our proven & patented ECOBOND® family of products available to help families in the fight against lead paint poisoning as well as our breakthrough smoke & odor blocking environmental paint which is scientifically proven with over 80% success rate in sealing, blocking, and absorbing hazardous pollutants from smoke and odors." stated James Barthel, President and creator of ECOBOND®.
For projects requiring an odor blocking paint:
Over time, pollutants and odors from tobacco and pot smoke as well as pet odors, collect and concentrate on surfaces creating an unpleasant, potentially unsafe indoor air quality condition and could cause significant health risks. There is recent research from the National Institute of Health who found that these toxic brews, called ThirdHand Smoke, can then reemit back into the air and recombine to form harmful compounds that remain at high levels long after smoking has stopped occurring.
ECOBOND® OdorDefender® is a professional-grade Eco-friendly, odor-blocking paint designed for sealing & blocking dangerous odors and fumes from the effects of cigarette smoke, pot smoke, fire, as well as pet odors & improves indoor air quality to protect customers & employees from Thirdhand Smoke.
For projects requiring lead paint removal:
ECOBOND® LeadDefender® is a one-of-a-kind solution and is the only paint product that seals & treats existing lead paint applications & controls the spread of airborne lead to reduce lead hazards. In a move to further serve widespread issues associated with the dangers of lead paint ECOBOND® made the strategic decision to add Bitrex® Bitterant Technology to their lead paint treatment product, ECOBOND® LeadDefender®. In a recent press release from Johnson Matthey (UK), Bitrex®, which is the bitterest substance known, announced that they have been added to ECOBOND® to reduce accidental ingestion of potentially harmful materials. In the new LeadDefender formula, Bitrex® creates an added safety barrier to further protect children from lead poisoning by reducing the amount of paint chips or dust a child may ingest.
About Menards:
A family-owned company started in 1958, Menards® is headquartered in Eau Claire, Wisconsin and has more than 300 home improvement stores located in Illinois, Indiana, Iowa, Kansas, Kentucky, Michigan, Minnesota, Missouri, Nebraska, North Dakota, Ohio, South Dakota, Wisconsin, and Wyoming. Today, Menards® is known throughout the home improvement industry as the low-price leader; Dedicated to service and quality®, Menards® carries a complete selection of high-quality, name brand merchandise, tools, materials and supplies for all home improvement needs. Menards® also provides a number of quality in-house, home improvement brands
About ECOBOND®
With over 15 years in patented and proven success, the ECOBOND® Paint, family of products is the premier provider of environmental products focused on protecting human health and the environment from the dangers of lead, smoke, odor, and other pollutants.
Our innovative products have been sold online at major retailers such as Home Depot, Walmart, Amazon, and others for the past 10 years and we are proud to have served over 100,000 customers in all 50 US states, Canada, and Internationally