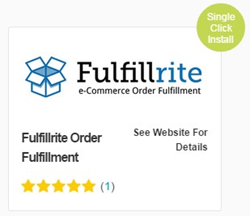 This new app turns the headache of order fulfillment into a simple, seamless process." - Joe Brieger of Fulfillrite
Lakewood, NJ (PRWEB) November 21, 2014
Fulfillrite, a New Jersey based ecommerce order fulfillment company today announced the release of its single click install ecommerce order fulfillment app for Bigcommerce shops.
The new order fulfillment app allows Bigcommerce store owners to seamlessly integrate their entire order fulfillment process with a single click. After the app has been installed, paid orders are automatically sent to Fulfillrite to be picked, packed and shipped. Once your orders are shipped the tracking numbers and shipping status are updated back to your orders in Bigcommerce. The new order fulfillment app also offers an industry-first feature that retrieves coupon codes attached to the orders.
"Our main goal is to make every aspect of order fulfillment as simple as possible," explains Joe Brieger, co-founder of Fulfillrite. "We achieve this simplicity by providing our customers with the latest technology in the form of ecommerce integrations, apps, and real time access to their data via our web portal. This desire to make order fulfillment as simple as possible was the driving force behind creating this new app for Bigcommerce."
Previously, Bigcommerce storeowners who wanted to use Fulfillrite for ecommerce order fulfillment had to generate API keys manually and integrate them with Fulfillrite's platform. Although the process was fairly easy, it still involved some back end set up and required the assistance of a Fulfillrite representative. Now, everything is set up with a simple, single click.
Bigcommerce storeowners can now install the new Fulfillrite order fulfillment app simply by clicking on the Apps icon in the left-hand column of their dashboard. Once inside the Apps store, the new order fulfillment app can be found under "Order fulfillment" in the apps drop-down menu.
The new order fulfillment app is free to set up and includes a free easy-to-use web portal.
Fulfillrite's services have no long term contracts, and pricing is based on straightforward, simple pick and pack fees.
"This new app turns the headache of order fulfillment and shipping into a simple, seamless process," said Brieger. "By providing our customer a fully automated experience, our clients suddenly find themselves with the time and energy to focus on growing their business."
About Fullfillrite
Fulfillrite is a full service ecommerce order fulfillment provider. They offer simple, fast order fulfillment services and their platform integrates easily with all major shopping cart platforms. They also provide complete order fulfillment and shipping services for crowdfunding projects from Kickstarter and Indiegogo, as well as flash sales.