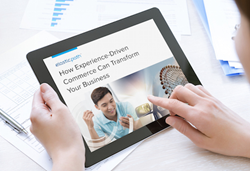 Executives in charge of digital strategy are grappling with a plethora of complex issues related to commerce, content, and digital marketing, and that's why we wrote this book
Vancouver, B.C. (PRWEB) May 07, 2015
Elastic Path Software Inc., an ecommerce company helping the world's biggest brands generate more revenue, today announced the launch of "The Definitive Guide to Experience-Driven Commerce," a new e-book series that will cover everything digital executives need to know to start transforming their business to serve today's digital-empowered shopper.
The first book in the series covers the "New Customer Journey" and includes an in-depth look at the 4Cs of e-business -- content, context, channel, and commerce – and how they are converging to transform customer expectations around shopping online and in physical stores.
"Today's shoppers use an abundance of technology, and so they expect a lot more from brands and retailers in terms of their shopping experiences," said Matt Dion, Vice President Marketing, Elastic Path. "Unfortunately, most brands aren't ready to deliver. Executives in charge of digital strategy are grappling with a plethora of complex issues related to commerce, content, and digital marketing, and that's why we wrote this book. It's a no-nonsense starter guide to get brands on the road to digital transformation."
"The New Customer Journey: A Convergence of Content, Context, Channel and Commerce" includes 32 pages of insight and analysis into the forces that are reshaping the commerce industry. Readers will learn what experience-driven commerce is all about, what trends are driving it, and how it will positively impact their organizations. Chapters include:

What is experience-driven commerce?
Fundamental trends driving experience-driven commerce you can't afford to ignore
Five ways experience-driven commerce will positively impact your company
Is your organization ready for the Age of the Customer?
Glossary of terms and phrases you need to know
This e-book is the first in a series. In future e-books, Elastic Path will dive deeper into the specifics of what steps brands need to take to build a business case for implementing experience-driven commerce with their organizations.
Download a free copy today at http://www.elasticpath.com/ebook.
About Elastic Path
Elastic Path helps the world's biggest brands generate billions in revenue using its ecommerce technologies. The company's software also seamlessly brings omnichannel ecommerce, subscriptions, and enhanced connectivity right into Adobe Experience Manager, the leading content management platform – enabling companies to deliver a complete customer experience that maximizes engagement and conversion. Elastic Path has more than 200 customers, including McGraw-Hill Education, Virgin Media, LVMH, Western Union, Desire2Learn, Coastal Contacts, TeliaSonera, Kiabi, and Motability. The company has 150 employees in Vancouver, Canada and the UK. For more information, visit http://www.elasticpath.com.
For Additional Information:
Megan Sakakibara
Marketing Communications Manager
Elastic Path Software
604-408-8078, ext. 275
megan.sakakibara(at)elasticpath(dot)com