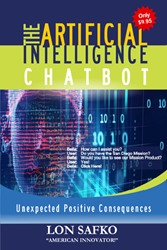 I have never seen a chatbot that delivers exceptional results like Aco... I experienced 30 percent more sales! So I wrote this book about it!
LOS ANGELES (PRWEB) June 05, 2019
The eCommerce business, Paper Models, Inc., which provides downloadable paper models for school projects since 1999, has received 30 percent increase in sales after adding an AI chatbot to their website https://www.PaperModelsOnline.com, achieving the highest monthly sales in more than 10 years.
The President, Lon Safko, who programmed one of the very first chatbots back in 1978 and evaluated a dozen of chatbots on the market today, reviewed more than 2,000 sessions and 22,802 interactions between his website visitors and Aco, the AI chatbot, built by Acobot.AI. Here's what he found: He discovered that not only did an AI chatbot increase his sales by 30% but also were a series of unexpected positive consequences shown from his website, customers, and business.
Safko wrote this book to help business owners like himself. He realized every owner wants to grow his businesses but has no access or understanding of new technologies. Within the book Safko shared what he learned with a thorough analysis of how the AI chatbot contributed to this dramatic increase in sales. He unveils the actionable tips on using an AI chatbot effectively, based on his own first-hand observations.
"I developed a chatbot 30 years ago as a programmer. Recently, I evaluated nearly dozens of chatbots as an eCommerce business owner. I have never seen a chatbot that delivers exceptional results like Aco," said Safko. "I experienced 30 percent more sales! So I wrote this book about it!"
"Aco works out of the box!"added Safko."It automatically learns from my website on its own and begins working in minutes. It doesn't require any computer skills at all. I believe eCommerce business owners will love that as much as I do."
To create an AI chatbot with Acobot, a business owner only needs to provide the website URL. Acobot's self-learning AI will study the website, create an AI chatbot, and provide it with the knowledge it needs based on the website's content. The Acobot technology makes it possible for eCommerce businesses that do not have their own IT departments to utilize this state of the art AI to grow their businesses.
While it's common that satisfied customers post positive reviews on the products or services they use, it is a very rare case that a happy customer writes a book to share his experience with a business tool voluntarily. Lan Safko and Acobot LLC confirm they are not affiliated with each other and the book is not a sponsored publishing, in accordance with the guidelines set forth by the F.C.C. and the F.T.C.
In addition to being President of Paper Models Inc., Safko is also an inventor, professional speaker, a Pulitzer Prize Nominee, and author of several bestselling books including "The Social Media Bible".
Safko is best known for the first commercialization of voice recognition and creating the "first computer to save a human life" as coined by Steve Jobs. He didn't write this book from the perspective of an A.I. expert, instead he wrote it from the perspective of a fellow business owner, so it could benefit others.
The book is published on Amazon in "quick-read", "pocket-book" in both paperback and eBook formats. To enable more people to learn about this new AI technology, Safko has decided to give them the book for free for a limited days starting from June 5, 2019. Business owners who want to grow their businesses can utilize this chance to download a free copy of this book at https://amzn.to/310kPzW.