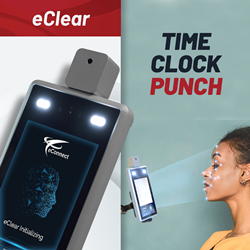 Providing a great technology experience not only supports user adoption, but it helps organizations better engage and retain their workforce to drive business success.
LAS VEGAS (PRWEB) September 10, 2020
eConnect today announced it has joined the Kronos Technology Partner Network, a fast-growing ecosystem of organizations creating solution extensions and integrations for Workforce Dimensions from Kronos and Kronos Workforce Ready to support the pursuit of contactless workplaces in the hospitality industry during the COVID-19 pandemic.
The eConnect eClear solution replaces conventional biometric and hand-reader time clocks to allow employees to accurately punch in and out of their shifts via face matching, reducing contact with commonly shared surfaces. The eClear solution incorporates a pre-shift screening questionnaire and will also check each employee's temperature in accordance with public health guidance and can accurately detect and confirm if an employee is wearing a mask upon their arrival to the workplace. The experience will seamlessly integrate with Kronos solutions – first with Workforce Dimensions and then Workforce Ready later in 2020.
Kronos, following its merger with Ultimate Software, will become UKG (Ultimate Kronos Group) on Oct. 1.
"We are thrilled to be working with Kronos – and soon UKG – on these development efforts," said Henry Valentino, President & CEO at eConnect. "We want to help our mutual hospitality customers safely reopen as soon as possible. Our eClear integration with Workforce Dimensions and Workforce Ready makes eClear the perfect no-contact clock in an out solution to both accurately record employee time and attendance and quickly and accurately screen temperatures for staff."
Cloud-native, mobile-native, and powered by artificial intelligence, Workforce Dimensions drives in-the-moment decisions to unburden managers to focus on strategic priorities and empowers employees with an engaging technology experience. Workforce Ready is a full-suite human capital management solution that spans the entire employee lifecycle, including recruiting and onboarding, talent and performance management, benefits and learning administration, workforce management, and cloud payroll, creating a unified experience with a single database.
"Providing a great technology experience not only supports user adoption, but it helps organizations better engage and retain their workforce to drive business success," said Mike May, senior director, Workforce Dimensions Technology Partner Network, Kronos. "Our solutions are designed to be open and extensible, enabling innovative product extensions with partners, including eConnect, that empower employees in ways that simply are not possible with other solutions."
eConnect" is a cutting-edge technology company that helps improve business performance through data integration and video intelligence. As a global leader in facial recognition applications, eConnect has now applied this technology to touchless time punch solutions. The software tools are world-renowned for their reliability and security. For more information visit https://www.eclearcloud.com