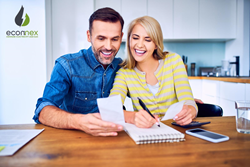 These welcome changes have set the scene for the launch of Econnex's energy comparison tool. We're proud to be saving Australian householders money on their power bill.
SYDNEY (PRWEB) October 26, 2020
Econnex, 24 October 2020: Econnex have launched an energy comparison tool that makes it easy for Australian households to compare energy provider prices at a glance, potentially saving hundreds of dollars in the process.
Big changes have been happening in the Aussie power market, with the Australian Government is taking a "big stick" approach to energy misconduct, in a market deemed "uncompetitive and unsustainable" by the Australian Competition & Consumer Commission (ACCC). As a result, electricity prices have fallen across Australia. Particularly, wholesale electricity prices have dropped dramatically (by ~46% in the last year). Energy suppliers are under pressure from the Government to make sure savings trickle down to Australian homes and businesses. The Government also announced they'll be tapping key gas reserves, making both gas and electricity more affordable.
Econnex CEO Ankit Jain explains "the national energy market is changing, and it's great news for Australia. When energy is unaffordable, homes and businesses suffer, and so does the economy. It makes it harder for Australia to compete on a world stage. These welcome changes have set the scene for the launch of Econnex's energy comparison tool. We're proud to be saving Australian householders money on their power bill."
Policy lag and the national energy market
About a third of the average household power bill is comprised of wholesale energy prices, so when wholesale electricity prices go down, it costs less for energy suppliers to keep Australian homes and businesses in power. However, a macroeconomic concept "response lag" (also known as impact lag) is slowing down the pace of change. This form of policy lag often delays the impact of new government policies in the market.
The Australian Energy Minister has stated that "While it is good to see reductions starting to flow through… we are going to keep the pressure on the energy companies to make sure they keep coming down".
Econnex closes the gap
Traditionally, changing energy providers was a cumbersome process: online research, waiting on hold for salesy call centre operators, and so on. Time is the most precious resources, and such effort may seem to outweigh unguaranteed benefits. Even Australians who are aware of changes in the energy market, may not think energy comparison is worth the time.
Econnex is an online tool that is dedicated to doing the "hard yards", as Aussies put it. Ankit explains, "We live in the fair go country, and Aussies deserve a fair go, not an uncompetitive deal. Econnex is dedicated to closing that gap… The truth is, electricity is boring to most of us. There's a lot of different options, and they're basically offering the same thing: the ability to live in a modern world, turn on the lights, keep your fridge cold… Power's a non-negotiable, but you don't want to spend time thinking about it. But that's where Econnex comes in: to empower you with better power choices."
A simpler process
Econnex is a no-obligation energy comparison tool letting people compare the plans of household electricity and gas providers. Users start by filling in a quick form, telling Econnex their postcode, approximate electricity usage for a given period, and connection date. Then, users choose your preferred tariff type, and receive various options. Unlike some other comparison sites which use confusing star systems, Econnex users receive hard dollar-value information, and when they're ready to make the switch, Econnex will begin the transfer process on their behalf.
The Econnex service is entirely free and is already saving thousands of Australians on their energy bills. It is available on their energy comparison website, econnex.com.au.
ABOUT ECONNEX: Econnex is an energy comparison tool helping thousands of Australians compare the cheapest electricity and gas plans from dozens of retailers. Econnex's 100% automated and secure system finds plans in users' areas, and gives you the option to sign up on the spot. Econnex does all the hard work behind the scenes and in the cloud, saving Australians time and money.