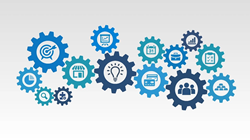 When there is growth in these places, the communities as a whole reap the benefits
MIAMI (PRWEB) January 22, 2020
Hollywood star Laurence Fishburne is the host of the educational TV show "Behind The Scenes". The program highlights a multitude of topics that affect people all over the world. In a new episode Mr. Fishburne spotlights economic development in rural communities.
Throughout the U.S., rural communities are looking to strengthen their economies while providing a better quality of life and adding to the preexisting local assets. Numerous rural communities are experiencing challenges with declining populations and loss of working lands and farms. Developers for these communities are implementing strategies that achieve their goals for growth while maintaining the unique rural character of these locations.
Configuring the groundwork for where development should or should not go can aid in encouraging growth in a town, such as the placement of where businesses should reside to increase economic prosperity. Incorporating policies that protect water and air quality, preserve open space, provide spots for recreation, and produce tourist attractions to draw in an income to the local economy are all part of the plans used to grow a rural community. These policies also include support for biking, walking, and public transport to aid in the reduction of air pollution from automobiles while helping individuals save money.
Rural towns and communities are the homes to multitudes of people. When there is growth in these places, the communities as a whole reap the benefits. "Behind The Scenes" will interview industry experts about the impact of economic development in these places.
"Behind The Scenes" with Laurence Fishburne is carefully looked over before broadcast. The educational show has received numerous awards for its endeavors.