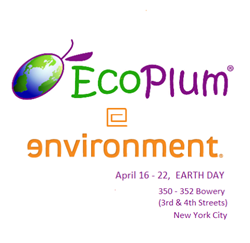 The modern and distinctly crafted furniture at Environment fits perfectly with our artisanal selection of sustainable and stylish products.
New York, NY (PRWEB) March 19, 2015
Today EcoPlum, a sustainable e-commerce and media company, announced its very first pop-up shop, in an Earth Week partnership with Environment Furniture in New York City. Opening April 16, EcoPlum will showcase eco fashion from its online boutique at the Environment store through Earth Day, April 22, 2015.
EcoPlum will then migrate its pop-up shop to the New York Green Festival, in its fifth year at the Jacob K. Javits Convention Center, running Friday, April 24 through Sunday, April 26, 2015.
EcoPlum at Environment (hashtag #epopup) will be an integrated shop-within-a-shop concept. It will blend the distinctive craftsmanship of Environment's custom-made reclaimed wood furnishings for the home with EcoPlum's complementary mix of reclaimed, organic, vegan or otherwise sustainable clothing, jewelry, accessories, cosmetics, and housewares. In a joint campaign, Reclaim the Earth (#ReclaimtheEarth), both companies will promote conscious and responsible buying habits to conserve the world's resources and lead healthier lives.
In 2008, EcoPlum created the first green shopping rewards loyalty program and has been at the forefront of making the case for environmental responsibility and conscious consumerism since launching. The company was also one of the first online stores focused entirely on offering eco friendly products with third-party certification and other sustainability standards. Unique merchandise is sourced from a cross-section of US and fair trade vendors, with a particular emphasis on women artisans.
Gia Machlin, EcoPlum CEO and Founder, said: "We are so proud to collaborate with Environment Furniture on our first pop-up store. The modern and distinctly crafted furniture at Environment fits perfectly with our artisanal selection of sustainable and stylish products."
Environment is a contemporary furniture brand, part design consortium, part modern craftsman, dedicated to using materials and processes with a low environmental impact. Their collections incorporate reclaimed, recycled or repurposed wood and canvas and only use new wood procured from strictly managed certified forests. Commencing in 2003, Environment was the first furniture company to export reclaimed peroba wood from Brazil, with its natural, aged patina. Casual sophistication meets sustainability in their New York, Los Angeles, and Orange County showrooms.
Mack Hopper, Environment Senior Interior Designer, added: "We're excited to host EcoPlum's pop-up in our New York store. Both companies share a commitment to people and planet and we know our customers will want to see what EcoPlum has to offer and vice versa!"
As part of the pop-up promotion with EcoPlum, Environment will offer an exclusive, special discount to customers visiting the store on Friday, April 17. EcoPlum will offer a variety of discounts, daily deals, and drawing give-aways at Environment, April 16-22, and also during the Green Festival, April 24-26. Both companies will also co-promote at the Green Festival.
Social media campaigns running through the Earth Week pop-ups, April 16-26, will include the following relevant hashtags and twitter handles: #epopup, #ReclaimtheEarth, #NYCGreenFestival, @ecoplum, @environmentfurn, and @greenfestival. Facebook, Instagram, and Pinterest will also be incorporated.
Environment Furniture is located on the Lower East Side of Manhattan at 350-352 Bowery, between 3rd and 4th Streets. EcoPlum's pop-up at Environment will run during regular store hours, daily from 10am-6pm, Sunday 11am-5pm.
The New York Green Festival will be held at the Javits Center, located at 655 West 34th Street in New York City. EcoPlum will be at Booth #416 on the center aisle close to the entrance. Environment Furniture, a key sponsor of the Green Festival, will have a large booth right in the entry area of the convention floor.
EcoPlum Exhibitor Guest Day Passes, at $5 off registration cost, are available to anyone who registers at Green Festival through April 23rd at 5pm, using the EcoPlum discount code: XNY15UK7R
In addition, all EcoPlum Newsletter subscribers will receive more details on the pop-up, special events, and exclusive offers for all upcoming Earth Week activities. New subscribers may sign up via this link, Get EcoPlum News, or send an email to info(at)ecoplum(dot)com.
About EcoPlum
EcoPlum® is an environmentally focused media and e-commerce company. The EcoPlum Boutique specializes in stylish and unique clothing, accessories, jewelry, cosmetics, specialty foods, and gift items that are sustainable, fair trade, organic, vegan, recycled, upcycled, and/or ethically sourced. EcoPlum's customers all earn our green shopping rewards points, known as EcoChipz, good for coupons in the shop or donations to environmental causes.
EcoPlum's goal is to inspire, inform and empower its readers and customers to be conscious of their daily habits, purchases and impact on the world's limited resources. In its quest for a better world, EcoPlum hopes to help everyone make responsible choices each day. But they also want it to be fun, easy and rewarding to "go green"! A trusted source for information and products since 2008, EcoPlum earned the coveted Green America Business Seal of Approval in 2011, providing the highest tier "Gold Approved Member" status online at GreenPages.org.
More information about EcoPlum®, Where it Pays to Buy Green®, is available at http://www.ecoplum.com, via info(at)ecoplum(dot)com, on Facebook, and on Twitter @ecoplum.