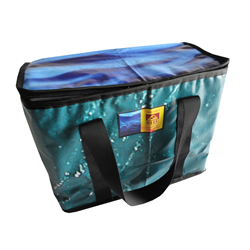 EcoPlum began its new eco friendly promotional products business to provide businesses and organizations with better alternatives to products made of virgin plastic for their branded messaging.
New York, New York (PRWEB) April 05, 2017
Today, EcoPlum, a sustainable promotional products and e-commerce company, started the EcoPlum Biz Blog to complement its business gifts division. EcoPlum Business Gifts launched in September 2016 and provides eco friendly branded gifts and promotional products for businesses, universities, non-profits and private events.
The new blog provides informative articles and news for people and organizations working to integrate sustainability into their operations and products. The goal is to support the creation of more environmentally friendly markets and economies in the United States and globally.
EcoPlum Biz Blog's first major article is a piece on "The Plastic Invasion" describing how plastic waste is accumulating rapidly in the United States and around the world, with minimal recycling. In 2014, the U.S. generated over 30 million tons of plastic waste and no more than 10% of it was recycled. The article digests a recent lengthy report from The New Plastics Economy initiative, presented at the World Economic Forum in Davos. This report outlines a global action plan for how industry can use principles of a "circular economy" to transition the current "linear" system away from its non-recoverable form of pervasive plastic waste and leakage into the ocean. In a circular economy, manufacturers implement "closed loop" processes to eliminate as much waste as possible at each step of production by recycling and reusing resources as efficiently as possible. The New Plastics Economy represents 40 major industry players in the global plastic packaging value chain, including individual companies that implement "closed loop" manufacturing processes.
Gia Machlin, Founder and CEO EcoPlum, links the new blog to the company's business role this way: "EcoPlum began its new eco friendly promotional products business to provide businesses and organizations with better alternatives to products made of virgin plastic for their branded messaging. With this new blog, we hope buyers will become more informed about environmental issues, which will help with making value-driven decisions."
EcoPlum sources environmentally friendly, closed-loop, promotional products for its clients using generally-accepted criteria, standards and third-party labels for sustainability. These items are eco friendly, non-toxic, and durable; may use recycled or reclaimed materials; and are made under fair trade and fair labor conditions when imported. Innovative products using reclaimed wood to make office accessories, wine bottles repurposed as glassware, and billboard banner art and material to make soft coolers are among the kinds of items available for branded messaging. The company seeks to eliminate much of the waste created by the promotional products industry, particularly non-decomposing plastic waste that ends up in the oceans and in landfills.
For additional information about EcoPlum Business Gifts, see these recent announcements about the launch of EcoPlum Business Gifts and EcoPlum's participation in a coalition of 365 companies urging Presidential support for the Paris Climate Agreement.
About EcoPlum
EcoPlum® is an environmentally focused business-to-business, e-commerce, and media company, including EcoPlum Business Gifts and the EcoPlum Boutique for consumers. EcoPlum Business Gifts, launched in Fall 2016, offers businesses and organizations branded and customized sustainable promotional products. The EcoPlum Boutique for consumers specializes in sustainable and stylish fashion, home, food and gift items in its online shop. EcoPlum was one of the first companies online to offer a loyalty program for customers, issuing green shopping rewards points, known as EcoChipz, good for coupons in the shop or donations to environmental causes. The EcoPlum Biz Blog is an information and news-based blog, with an emphasis on business decision-makers. The EcoPlum Green Living Blog reports the latest news and inspiration on a variety of eco topics, including green living and entertainment, safe cosmetics, millennials and the environment, and stories behind many unique eco friendly products.
EcoPlum's mission is to inspire, inform and empower its readers, individual customers, and business clients to be conscious of their daily habits, purchases and impact on the world's limited resources. In its quest for a better world, EcoPlum hopes to help consumers and businesses make responsible choices every day. EcoPlum's products are sustainable, fair trade, organic, vegan, recycled, upcycled, and/or ethically sourced meeting a number of criteria, including transparency of ingredients and third-party certification.
A trusted source for information and products since 2008, EcoPlum earned the coveted Green America Business Seal of Approval in 2011, providing the highest tier "Gold Approved Member" status online at GreenPages.org.
EcoPlum® says Sustainability. Meet Style.® More information is available at http://www.ecoplum.com via info(at)ecoplum(dot)com, or on Facebook and on Twitter @ecoplum.