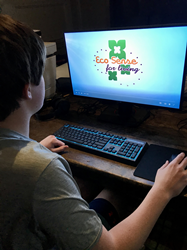 "We're excited to share these segments that offer environmental science, history, biology and other lessons for students. We're happy to help at this important virtual learning moment so students can hear from national experts, spark discussion, and provoke thoughts about caring for the planet."
ATLANTA (PRWEB) March 24, 2020
With the global novel coronavirus (COVID-19) requiring that students and teachers nationwide now interact on virtual learning platforms, new and varied resources are vital. Meeting that need, EcoSense for Living is now available on PBS LearningMedia, through a partnership with KET (Kentucky Educational Television) adding to the platform's online resources for educators and middle and high school students to explore science-based environmental challenges, solutions and conservation topics.
PBS LearningMedia offers a wealth of online collections and tools to create individual dashboards, sync with Google classroom, explore state curriculum standards, manage classroom assignments and much more. The EcoSense for Living team worked with Dr. Melinda Wilder, a former elementary and middle school teacher, experienced educator and education professor at Eastern Kentucky University, to design the teacher's guide and learning materials to accompany the complete video content, that originally aired on PBS stations. Dr. Wilder created discussion questions, vocabulary guides, hands-on exercises and other materials for teachers to tell environmental stories in a way that's fresh, entertaining, and puts needed tools at the fingertips of teachers.
"We developed the content to accompany EcoSense for Living on PBS LearningMedia so the guides met the widely accepted three-dimensional standards, chose performance expectations that most closely aligned with the video information, and then developed appropriate questions for middle and high school students," Dr. Wilder said.
The academic science literacy standards and benchmarks were developed with "buckets" or grade level disciplinary core ideas from Next Generation Science Standards (NGSS) or similar state-wide frameworks. Some buckets include science, life science, ecology, biodiversity and ecosystem relationships. This first set of EcoSense topics available now on PBS LearningMedia includes:

Grizzly Bears and Wolves: understanding the challenges of living in areas where they live, how they're managed, and the "Endangered Species" Act - what it is and how it's used.
Future of Food: from little changes we can make in our diets to reduce carbon to eating bugs!
Clean Air Act – how we got it and why it's still so important.
Talkin' Trash – how cities find innovative ways to turn trash into compostable treasure.
"With the EcoSense magazine style format, we were able to break the content down into digestible segments that fit well into classroom lessons, leaving room for interactive exercises," said Jennie Turner Garlington, EcoSense for Living series founder, producer and host. "We're excited to share these educational, entertaining segments that offer environmental science, history, biology and other lessons for middle and high school students. Moreover, we're happy to help at this important virtual learning moment so students can hear from national experts, spark discussion, and provoke thoughts about caring for the planet."
As an environmental media champion, former CNN producer, mother and concerned citizen, Jennie fervently embraces the sustainability views of her father, Ted Turner. She developed a PSA series called EcoSense for Living in 2005 that received high acclaim and she quickly expanded it into a 30-minute episode of the same name. That first show, featuring Clark Howard, offered environmentally friendly ways to save money daily around the house and led to more than two dozen half-hour subsequent episodes over the last 15 years. They are available for streaming on PBS.
Four new episodes will premiere in April for the 50th anniversary of Earth Day and Earth Month:
Wild Crossings looks at how animals can find passage in an increasingly developed world.
Fashioned for the Planet explores one of the most polluting industries of the world and alternatives to fast and cheap fashion.
Wild Healing shows our deep-seated connections to nature and how we all can understand and appreciate our link to domestic and wild animals and plants.
Innovation & Biomimicry explores the amazing versatile applications of mushrooms and how organizations like the Georgia Aquarium and Zoo Atlanta band together to use data to ensure survival for diverse species.
Through her ongoing work, Jennie works to raise awareness, spur discussion and offer tips for everyday ways to save the environment by producing new EcoSense for Living episodes. To date, the EcoSense for Living series has aired thousands of times in top markets nationwide including New York, Los Angeles, Philadelphia, San Francisco, Boston, Detroit, Minneapolis, Austin, Nashville, Seattle and many more. Each episode is produced by Picture Window Productions and made available to PBS stations across the United States via NETA, an internal network/satellite service. View full episodes live streamed at https://www.pbs.org/show/ecosense-living/episodes/. View the educational segments on PBS LearningMedia at pbslearningmedia.org/collection/ecosense-for-living. Visit http://www.EcoSenseForLiving.com or Facebook (EcosenseForLiving) for more information.
About PBS
PBS, with more than 330 member stations, offers all Americans the opportunity to explore new ideas and new worlds through television and digital content. Each month, PBS reaches over 126 million people through television and 26 million people online, inviting them to experience the worlds of science, history, nature and public affairs; to hear diverse viewpoints; and to take front row seats to world-class drama and performances. PBS' broad array of programs has been consistently honored by the industry's most coveted award competitions. Teachers of children from pre-K through 12th grade turn to PBS for digital content and services that help bring classroom lessons to life. Decades of research confirms that PBS' premier children's media service, PBS KIDS, helps children build critical literacy, math and social-emotional skills, enabling them to find success in school and life. Delivered through member stations, PBS KIDS offers high-quality educational content on TV – including a 24/7 channel, online at pbskids.org, via an array of mobile apps and in communities across America. More information about PBS is available at http://www.pbs.org, one of the leading dot-org websites on the internet, or by following PBS on Twitter, Facebook or through our apps for mobile and connected devices. Specific program information and updates for press are available at pbs.org/pressroom or by following PBS Pressroom on Twitter.
# # #
Images Available Upon Request