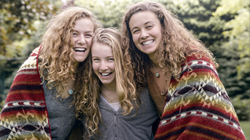 SAN MARCOS, Calif. (PRWEB) December 11, 2018
When a massive earthquake hit Ecuador in 2016, it killed nearly 700 people and destroyed entire villages. Nearly two years later, many victims are still suffering. One company aims to help them this holiday season and is donating 100% of its online sales to 5 families in Ecuador hard hit by the devastating quake.
Ecuadane brand feels a special connection with the South American nation. Most of its quality, hand-made goods are crafted by artisans in Ecuador. The company is also founded by three young sisters whose mother is Ecuadorian. That connection inspired this special Christmas gift to the five families all of whom are struggling to sustain themselves and their families.
Every item from Ecuadane makes a wonderful holiday gift in and of itself - and now it's the gift that's making a difference for a family in need. From soft, cozy, snuggle-worthy alpaca-blend blankets to beautiful scarves and ponchos, the special people in your life will treasure these amazing gifts for years to come. And you'll feel the warmth of giving a gift that keeps on giving!
Meet The Families Ecuadane is Helping:
Sucelina Mira is in her late fifties and lives in a small house on top of the water with 7 family members and a collection of nephews and nieces that she takes care of while her older children work. Sucelina sustains her family with the little money her son and daughter have to spare and manages to squeeze by on $80 a month.
Dolones Garcia is a single mom struggling to support two young kids through school. Her sole income is her child support which barely covers her $20 a month rent.
Liliana Barbose lives in an extremely small house with her husband, young child, and baby. There is barely enough room for a campfire stove. They sustain themselves through fishing.
Horje Escobar is a fisherman and has been taking care of his two young children (ages 5 and 7) full time since his wife died of cancer a year and a half ago.
Antonio Lara lives with his wife and two kids in a small house next to his parents' home. Their property is surrounded by trash inundated with daily flooding. No one in the family has a fulltime job. They manage to sustain themselves by collecting clams along the river banks.
The proceeds from every online purchase through the holiday season will go 100% towards helping these families heal from the earthquake.
About Ecuadane: The name Ecuadane is a combination of Ecuador and Denmark. The 3 young founders chose it to honor the countries where their parents were born. The Lund sisters love being together, discover cultures, traditions and wonders of the world. They started Ecuadane to be able to introduce others to the hidden treasures of little-known places. Ecuadane gives a substantial portion of its proceeds to charities.
For more information on Ecuadane visit https://www.ecuadane.com/.