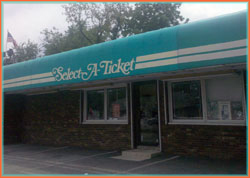 Soccer fans both young and old will not want to miss this once in a lifetime opportunity to see two global superstar teams duke it out where American Football generally reigns
Riverdale, New Jersey (PRWEB) September 07, 2014
Selectaticket.com is proud to announce the meeting of two international soccer legends, Ecuador and Brazil, at MetLife Stadium on Tuesday, September 9th, 2014. Come and cheer on a bevy of international stars as the 2014 FIFA World Cup hosts take on the Ecuadorian team as part of the Gillette Brasil Global Tour. See soccer's biggest stars, including Neymar, David Luiz, Hulk, and Enner Valencia battle it out on U.S. soil in this exciting exhibition match. Selectaticket.com reports a number of discounted tickets remain available.
Coming off a star studded World Cup this past summer in their home country, Brazil's national team is taking their show on the road in the Gillette Brasil Global Tour. Playing other internationally elite teams in iconic stadiums across the world, Brazil is sure to bring exciting matches to crowds hungry for more. Having won an astounding five World Cups, the Selecao is definitely soccer's most sought-after team.
Facing Brazil in this rare event is Ecuador. Finishing with four points in the 2014 FIFA World Cup, this feisty team is coming back with a vengeance. Although this match is considered friendly, the passion is still sure to ignite the Ecuadorians to play with all of their power. With the legendary Dunga returning to coach Brazil's national squad, Ecuador will have their work cut out for them.
See a potential preview of the 2015 Copa America, football's oldest international competition. Hosted by Chile next summer, the Copa America tournament is one of the most prestigious events in the sporting world. Brazil and Ecuador are both key players in this important tournament, and the match at MetLife may hint at what's to come in the not so distance future.
"This thrilling match is one of only two being played in the United States on this grand tour. Soccer fans both young and old will not want to miss this once in a lifetime opportunity to see two global superstar teams duke it out where American Football generally reigns," says Allison Willis, Inventory Manager at SelectATicket.com.
Watch all of the action live and in person, at a game sure to impress even the most nonchalant of soccer viewers. Visit selectaticket.com for more information, and to reserve seats to this exciting event.
About SelectATicket.com
Selectaticket.com has been providing fantastic experiences and memories with the right tickets at the right price for clients for more than three decades. They make ticket buying easy and affordable, as documented by their collection of satisfied customer testimonials. Select-A-Ticket's store is open 7 days a week and tickets may always be purchased through the website at any time, day or night.