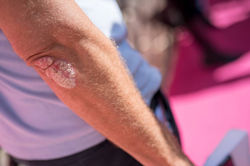 This affordable, reliable option earns our highest recommendation, and we're pleased to give Aveeno another top ranking among Eczema Relief products in 2020.
OVERLAND PARK, Kan. (PRWEB) December 31, 2020
TopConsumerReviews.com recently gave another best-in-class 5 star rating to Aveeno, a leader among products for Eczema Relief available for purchase online.
Eczema, also known as atopic dermatitis, is still a mystery: scientists and doctors theorize that it may originate with a genetic predisposition that is then triggered by factors like stress, but the exact cause remains unknown. Affecting millions of people worldwide, this condition is characterized by itchy, dry, red and swollen skin, which often leads to pain and embarrassment. Is it any wonder that people with eczema are desperate for relief and healing? While prescription ointments may work for some people, these remedies are often expensive and don't necessarily deliver results for every patient. Fortunately, there are a growing number of over-the-counter products that show promise with respect to eczema relief — without the costly price of prescription medications and lotions.
"Aveeno continues to be our go-to product for Eczema Relief in patients of all ages," affirmed Brian Dolezal of TopConsumerReviews.com, LLC. "For the youngest patients, their Baby Eczema Therapy is a gentle-yet-effective option, while Aveeno's Active Naturals balm is the recommended product for older users. Aveeno prides itself on using natural, sustainable ingredients with zero animal testing. And, as a Johnson & Johnson company, Aveeno backs every product with a money-back guarantee. If you're looking for an Eczema Relief product that relieves itchy skin almost immediately, soothes without stinging, and delivers results over the long term, look no further than Aveeno. This affordable, reliable option earns our highest recommendation, and we're pleased to give Aveeno another top ranking among Eczema Relief products in 2020."
To find out more about Aveeno and other Eczema Products, including reviews and comparison rankings, please visit the Eczema Products category of TopConsumerReviews.com at http://www.topconsumerreviews.com/best-eczema-products/.
About Aveeno
The Aveeno Brand is one of the brands of Johnson & Johnson Consumer Products Company, a division of Johnson & Johnson Consumer Companies, Inc. Aveeno Brand, a leader in Active Naturals technologies uses the best of nature to deliver scientifically proven, effective beauty care products. Recommended by dermatologists and pediatricians for more than 60 years, the Brand is committed to developing breakthrough product formulations with new and existing natural ingredients, many which deliver clinically proven results. The Aveeno Brand is the skincare brand most trusted by dermatologists for its use of natural ingredients. The Aveeno Line includes beauty care products for face, body, baby, hair and sun protection.
About TopConsumerReviews.com
TopConsumerReviews.com, LLC is a leading provider of reviews and rankings for thousands of consumer products and services. From Eczema Relief to Allergies and Fatigue, TopConsumerReviews.com delivers in-depth product evaluations in order to make purchasing decisions easier.