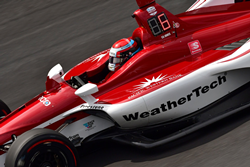 INDIANAPOLIS (PRWEB) May 22, 2019
With record-breaking starting positions, three drivers from Ed Carpenter Racing — Ed Carpenter, Spencer Pigot, and Ed Jones have qualified their Chevrolets for the team's entry in the 103rd running of the Indianapolis 500.
Saturday, after the first round of the NTT IndyCar Series qualifying run, Pigot was sitting in pole position in his No. 21 Autogeek Chevrolet. In sixth and driving the No. 63 Ed Carpenter Racing Scuderia Corsa Chevrolet was Jones, and right behind him, in the No. 20 Preferred Freezer Services Chevrolet, was Carpenter. On Sunday, after a rain delay for most of the afternoon, the drivers then made one four-lap attempt to lock in their starting positions, and when the dust settled, Ed Carpenter Racing claimed three of the top four spots, making team history and becoming the only multi-car team to have all its drivers in the Fast Nine.
"I was hoping one of the three of us was going to get the pole, but starting 2-3-4 is the next best thing," said Carpenter, a three-time Indy 500 pole winner and the only owner/driver in the NTT IndyCar Series field. "I'm really proud of the whole team to give us the cars we had, which put us in the position to go out and qualify the way that we did. I've said every year the poles are a credit to the team and their work in the off-season in building the cars."
This will be the sixth time in seven years that Ed Carpenter Racing starts in the front row at the Brickyard, and for Pigot, now racing his fourth season with the team, it makes a career best. It ties the career-best for Jones, who is only two years out from his rookie debut at the Indy 500. "Of course, you always want to be on pole," he said, "but regardless, it's great to be up front. It will give us a great chance for the win next Sunday and that's what it's all about!"
A win by Jones next weekend would be a monumental victory for Ed Carpenter Racing, Scuderia Corsa, and Race for RP – a campaign associated with the Relapsing Polychondritis Awareness and Support Foundation (RPASF). Race for RP is extremely pleased its logo is displayed on the ECR Scuderia Corsa No. 63 Chevrolet. Race for RP raises awareness and supports research for a difficult-to-diagnose disease that attacks a patient's cartilage and can be fatal. "Jones is a fantastic driver," says Nancy Linn, founder of Race for RP and chair of RPASF, "On Saturday, Jones' initial (single) qualifying lap was an astounding 240 mph. On Sunday, qualifying was also extremely competitive – so we are very excited about the Indianapolis 500 starting grid with all three Ed Carpenter Racing drivers in the first two rows. We are most grateful that Jones, Scuderia Corsa, and Ed Carpenter Racing are raising awareness about relapsing polychondritis and all autoimmune diseases, which affect 50 million Americans."
NBC's coverage of the 103rd Indianapolis 500 will begin at 11 a.m. ET on Sunday, May 26, with the green flag scheduled to fall at 12:45 p.m.
###
About Edward Jones
Born of English descent in Dubai, Ed Jones began his racing career in local karting competitions at age 9. He moved to single seaters in 2011, climbing up the European ranks. In 2015, Jones shifted his focus to North America and transitioned to Indy Lights. The next year, he won the championship and secured himself a place in the 2017 NTT IndyCar Series field. His first two Indy car races resulted in Top 10 finishes, but it was May when he burst onto the scene with a third-place finish in his Indianapolis 500 debut. His year-long performance with Dale Coyne Racing earned him 2017 Rookie of the Year honors. Driving for Chip Ganassi Racing in 2018, Jones scored eight Top 10 finishes in the 13 races in which he was running at the finish. His sophomore season also featured two more podium celebrations with third place results at Long Beach and Detroit. The races which will make up the 24-year-old's third season of Indy car competition will include the 12 road and street course events and the 2019 Indianapolis 500. For more information, visit http://www.edjonesracing.com/about.html.
About Scuderia Corsa
In 2019, Las Vegas-based team Scuderia Corsa enters IndyCar Series season, including the 103rd Indianapolis 500, after expanding its racing efforts to open-wheel in 2018 running in the 102nd Indianapolis 500. GT results include: IMSA GTD Champion (2017, 2016, 2015), Grand-AM GT Champion (2013), Pirelli World Challenge GTA Champion (2016), 24 Hours of Le Mans GTE-AM Winner (2016), 24 Hours of Le Mans GTE-AM Podium (2017, 2015), 12H of Sebring Winner (2016), 12H of Sebring Podium (2018, 2017), 10H of Petit Le Mans Winner (2018), 6H of Watkins Glen Winner (2016), 6H of Watkins Glen Podium (2017). Championship winning, Scuderia Corsa was founded in 2012 by Giacomo Mattioli and Art Zafiropoulo. Follow Scuderia Corsa on Twitter @Scuderia_Corsa, Facebook at Scuderia Corsa, Instagram at @Scuderia.Corsa and ScuderiaCorsa.com.
About Ed Carpenter Racing
Ed Carpenter Racing (ECR) first entered the NTT IndyCar Series in 2012. The Indianapolis-based race team has proven its versatility by collecting seven wins on each type of track the series competes on – street and road courses, short ovals and speedways. ECR is led by IndyCar's only owner/driver, Ed Carpenter, three-time pole winner for the Indianapolis 500 (2013, 2014 and 2018). In 2019, Carpenter will race at all oval events in the No. 20 Chevrolet while Ed Jones will take over for the road and street courses. Both will be entered in the 2019 Indianapolis 500 alongside Spencer Pigot, who will compete for the NTT IndyCar Series championship as he races the No. 21 Chevrolet throughout the entire season. More information on Ed Carpenter Racing may be found at http://www.edcarpenterracing.com.
About Relapsing Polychondritis
Relapsing polychondritis (RP) is a systemic inflammatory disease of unknown etiology that can be fatal. The disease affects multiple organs, particularly cartilaginous structures such as the ears, nose, airway and joints as well as eyes, skin, vasculature, heart valves, and brain.
About Race for RP
Race for RP supports research, awareness programs, and cares for those who are affected by relapsing polychondritis and related diseases. For more information, visit https://raceforrp.org/.
About RPASF
RPASF's purpose is to increase awareness about relapsing polychondritis, provide for those who are affected by RP, support research to advance a cure, and promote quality care for patients with RP. For more information, visit http://www.polychondritis.org/