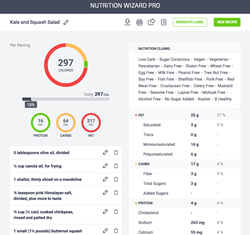 We produce full nutrition analysis in less than half a second
NEW YORK (PRWEB) October 04, 2018
Edamam, the leading provider of nutrition analysis and nutrition data to food, health and wellness businesses, unveiled today its fully redesigned nutrition analysis tool. Dubbed Nutrition Wizard, the tool aims to serve the needs of small businesses such as dietitian offices or single location restaurants.
The Nutrition Wizard is the fastest and cheapest way for businesses and people to get accurate nutrition analysis of any recipe, meal or ingredient. It uses Edamam's proprietary natural language understanding technology in the food domain to create an easy, one-click experience.
"One can type in a natural language, copy/paste or simply speak any recipe, food or ingredient list, then click "analyze" and we will produce full nutrition analysis in less than half a second " explained Victor Penev, Edamam's Founder and CEO.
The Nutrition Wizard provides detailed data for all macro and micronutrients, as well as tags the food or recipe for more than 40 diets, including all common allergy conditions or lifestyle diet needs.
"People can quickly see how many calories in a recipe, but also the amount of fat, sodium, sugar or any vitamin and mineral. We also flag the recipe as gluten-free, paleo, vegan or any other diet people may be following," added Victor Penev.
The Nutrition Wizard can further calculate personalized recommended daily intake of all nutrients, based on the person's age, height, weigh, gender and activity level.
Users can save and manage all analyzed recipes, export them or print a label with nutrition facts.
The various Nutrition Wizard plans target key user groups, such as dietitians or food service professionals. They can access it directly at http://www.nutritionwizard.com or through Edamam's main site http://www.edamam.com.
The Nutrition Wizard leverages Edamam's Nutrition Analysis API, which is used typically by larger companies to analyze large number of recipes or meals.
About Edamam
Edamam organizes the world's food knowledge and provides nutrition data services and value-added solutions to health, wellness and food businesses. Using a proprietary semantic technology platform, it delivers real-time nutrition analysis and diet recommendations via APIs. Edamam's technology helps customers answer for their clients the perennial question: "What should I eat?"
Edamam's partners and clients include Nestle, Samsung, The Food Network, Amazon, Barilla and The New York Times.
For more information, please visit http://www.edamam.com or developer.edamam.com.
Media contact:
Victor Penev
victor(at)edamam.com
+1.646.378.8317