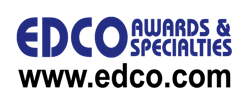 FORT LAUDERDALE, Fla. (PRWEB) March 17, 2021
EDCO Awards & Specialties—America's premier supplier of corporate recognition products and athletic awards—has published three new guides highlighting its art glass award offerings. The new content provides comprehensive details about the different types of awards EDCO offers and how organizations can customize and purchase them.
The first of the three posts, entitled Custom Trophy Buyers Guide: How We Customize Your Awards, delves into how EDCO's designers go about producing the trophies its customers purchase. It briefly describes each stage of production, from art proofing to engraving to shipping. This ensures buyers know what to expect when ordering awards, enabling them to come to the process prepared. This guide is ideal for companies that are new to ordering awards for their employees and want to get the most out of their experience.
The second EDCO article, Crystal Trophy Buying Guide: Planning the Perfect Crystal Award, touches on how EDCO creates its Crystal Award trophies, as well as how companies can utilize them to recognize their employees. Covering how to go about engraving and personalizing Crystal Awards, EDCO outlines the benefits of choosing these specific trophies and introduces the designs and materials available in this collection.
Finally, EDCO's Colored Crystal Awards: Reward Your Employees with Art guide details some of the more creative Crystal Awards available for purchase. These colored awards come in a range of options, including blue, red, green, black and multi-color. This category also contains Jade Glass Awards, a popular offering among corporations handing out awards to staff. The guide showcases various types of colored Crystal Award available, providing an outline of the different designs and giving visitors a visual prior to ordering.
Through the blog section of its website, EDCO offers insight into the process of creating many of its unique trophies and awards. It also presents ideas organizations can use to properly recognize employees for their hard work and dedication.
More About EDCO Awards & Specialties
Since 1969, EDCO Awards & Specialties has supplied corporate recognition products, athletic awards, and other branded merchandise to businesses and managers across the United States. With nearly 50 different themes of awards to choose from across hundreds of unique trophies and sculptures, EDCO has the perfect award for anyone looking to acknowledge the efforts of their employees.
EDCO offers a range of free additional services with its awards, including free art set-up, engraving, personalization, rush service, and ground shipping on orders over $100. For more information about EDCO's employee recognition awards, executive gifts, service awards, and other personalized specialties, visit their website at https://www.edco.com.