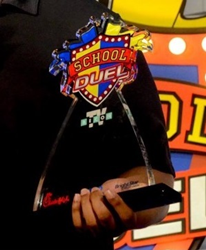 FORT LAUDERDALE, Fla. (PRWEB) March 11, 2021
EDCO Awards & Specialties, a premium supplier of awards and recognition products, is sponsoring this year's rendition of School Duel. School Duel is a Florida-based academic quiz series that sees 20 high school teams from Broward, Miami-Dade, and Palm Beach counties competing for prizes.
Hosted on BECON-TV, School Duel is heading into its 11th season, having premiered on March 4th. The first episode of the season saw McArthur High School match up with Everglade High School. The show will follow with nine more games, featured during weekly episodes running until May 6th.
In addition to McArthur and Everglade, schools featured this season will include: Sheridan Tech, Cooper City, Christopher Columbus, Jupiter, Royal Palm Beach, Spanish River, Doral Academy, Pine Crest, Miramar, West Broward, Cypress Bay, Western, Douglas, Monarch, Boyd Anderson, McFatter Tech, Coral Glades, and Pompano Beach.
School Duel is South Florida's only locally produced, academic-themed game show. Hosted by former HEATV star Lisa Lee, each episode features four rounds of questions covering a wide range of educational topics. Players on the winning and runner-up teams will secure prizes from the show's sponsors, including a $1,000 check and a championship trophy. The winning school will also receive a two-foot tall School Duel trophy to display on its campus.
School Duel episodes will air every Thursday at 8 p.m. EST on BECON-TV. These will be followed by re-runs of the episode on Saturdays and Sundays at 10 a.m. EST. Those residing in the Broward, Miami-Dade, and Palm Beach counties can access BECON-TV through Comcast Cable, DirecTV, DISH Network, and AT&T U-Verse. All School Duel episodes are also available on their YouTube channel.
Interested viewers can follow School Duel's Twitter @SchoolDuel for updates.
More About EDCO Awards & Specialties
Since 1969, EDCO Awards & Specialties has supplied corporate recognition products, athletic awards, and other branded merchandise to businesses and managers across the United States. With nearly 50 different themes of awards to choose from across hundreds of unique trophies and sculptures, EDCO has the perfect award for anyone looking to acknowledge the efforts of their employees.
EDCO offers a range of free additional services with its awards, including free art set-up, engraving, personalization, rush service, and ground shipping on orders over $100. For more information about EDCO's employee recognition awards, executive gifts, service awards, and other personalized specialties, visit their website at http://www.edco.com.