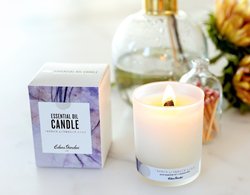 "I wanted to create candles that not only create comfort but that you can feel comfortable using, knowing that it won't harm you or your loved ones," says Edens Garden CEO and president, Grace Martin. "
SAN CLEMENTE, Calif. (PRWEB) October 30, 2018
Edens Garden just launched a collection of Essential Oil Candles, just in time for the holidays. Natural, non-toxic and made with 100% pure essential oils, these candles intertwine aromatherapy with chic, stunning home decor.
"Candles have a therapeutic nature, and when you pair that with beautiful aromas and elegant design, a simple candle can create an atmosphere of warmth, safety and relaxation," says Edens Garden CEO and president, Grace Martin. "The only problem is that so many candles contain toxic paraffin waxes, synthetic fragrances and a host of harmful chemicals. I wanted to create candles that not only create comfort but that you can feel comfortable using, knowing that it won't harm you or your loved ones."
According to experts, many candles contain hazardous chemicals which can lead to serious health problems, including brain and lung damage. An analysis by the EPA revealed that candle wicks can contain metals, including lead, though lead wicks are currently banned. The EPA's analysis also showed that this and other factors reveal that candles laden with synthetics can lead to indoor air pollution. Furthermore, candles made with paraffin wax, were especially shown to release unwanted chemicals into the air, and that frequent use of paraffin candles could lead to asthma, allergies and even cancer. With all of this in mind, Edens Garden felt that the need for a natural alternative to commercial candles was obvious, and thus began research and development into candles consumers could feel safe using.
The candle collection is made with sustainable coconut wax, a non-toxic, slow-burning ribbonwick and 100% pure essential oils. Candles are available in 6 aromas: Cinnamon Sweet Orange is spicy, warm and considered to be the perfect holiday candle, French Lavender Sage has a floral bouquet that transports you to a Parisian spring, Lavender Magnolia is sweet, champagne-like and full of bubbly splendor, Lemongrass Ylang Ylang is citrusy, floral and elegant, Tangerine Jasmine is sweet, sultry, and creates a lively atmosphere, and lastly Tobacco Patchouli is a vintage blend, wrapped in musky, cologne-like nuances.
Each candle is handpoured into frosted glass, topped off with unique aesthetic designs, then beautifully boxed for gifting. If you're looking to buy one for yourself and for others, these candles are also available in a pre-selected set of three, and a "Create Your Own" 3 set, allowing you to pick the 3 candles of your own choosing at a discounted price. Whether you are purchasing one for yourself or for a loved one, each candle is sure to make an impressive focal point, and elegant touch in every home.
About Edens Garden
Edens Garden was formed in 2009 with the intent to provide high-quality, pure essential oils at affordable prices. Since that time, the online company has grown to include a large variety of single oils, synergy blends, carrier oils, body oils, natural bar soap, salt soaks, perfumes, room sprays, and candles. Unlike many other aromatherapy brands, Edens Garden is a non-MLM company that sells directly to consumers. Through organic growth, Edens Garden has satisfied more than 1 million loyal customers. Known for a range of expertly formulated blends, Edens Garden has worked with some of the biggest names in the natural industry, including Schmidt's Naturals. To find out more about Edens Garden visit edensgarden.com or follow Edens Garden on Facebook, Instagram and Twitter.