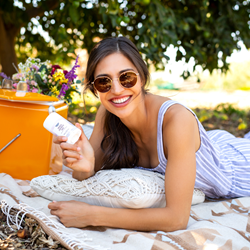 "You asked, we listened, and took it a step further by creating a deodorant formula that was free of harsh ingredients and used innovative prebiotics as the active ingredient," said Grace Martin, Edens Garden founder and president.
SAN CLEMENTE, Calif. (PRWEB) November 19, 2018
Edens Garden is redefining natural with the release of its new natural deodorant collection. Available in 5 types, the natural deodorant is baking soda and aluminum-free and packed with minerals, prebiotics and essentil oils. Sustainably sourced, the formula is entirely vegan and cruelty-free.
The underarms are often an area of sensitivity yet many conventional deodorants continue to use harsh, irritating ingredients that wreak havoc on the armpits. From baking soda and fragrances to talc and petrolatum, people are finally saying no to irritating ingredients in their deodorant. The need for more natural deodorant has thus risen to new heights as of recent years.
However, despite the growing concerns users have with conventional deodorant, many have been turned off to using natural alternatives have fallen short in the past.
Edens Garden believes that natural doesn't have to mean compromising on efficacy. The formula fights bad odor-causing bacteria, through prebiotics. The use of prebiotics helps feed good bacteria, while fighting bad bacteria, balancing the body's microflora and neutralizing odors. Each deodorant also contains antibacterial essential oils which help to bolster the work of prebiotics. The end-product is a superbly effective, natural deodorant.
The deodorant collection not only deodorizes, but heals and protects the underarms through sustainably sourced, skin nourishing ingredients and antioxidants. Deodorants are available in 5 aromatic varieties: Cedarwood Spruce is earthy with layers of fresh forestry, Frankincense Lime is grounding yet brightly citrusy, French Lavender Sage is herbal, subtle and delightful, Lavender Magnolia is floral and bubbly and lastly, Rose Bergamot is a classic blend of musk and lovely rose.
Containing only the highest ingredients available, the deodorant collection is completely free of aluminum, baking soda, parabens, phthalates, gluten, synthetic fragrances and artificial colors. Each deodorant is beautifully packaged, and make for excellent gifts this time of year. If you're looking for a way to save money while stocking up on household necessities or stocking stuffers, deodorants are also available in discounted "Create Your Own" 3 Set.
About Edens Garden
Edens Garden was formed in 2009 with the intent to provide high-quality, pure essential oils at affordable prices. Since that time, the online company has grown to include a large variety of single oils, synergy blends, carrier oils, body oils, natural bar soap, salt soaks, perfumes, room sprays, candles, and deodorants. Unlike many other aromatherapy brands, Edens Garden is a non-MLM company that sells directly to consumers. Through organic growth, Edens Garden has satisfied more than 1 million loyal customers. To find out more about Edens Garden visit edensgarden.com or follow Edens Garden on Facebook, Instagram and Twitter.