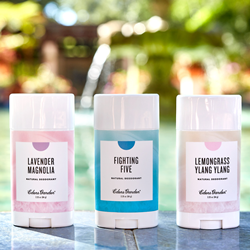 SAN CLEMENTE, Calif. (PRWEB) April 18, 2019
Edens Garden launches 7 new, natural deodorant aromas as the natural deodorant market continues to expand. The deodorants combine the power of 100% pure essential oils and non-toxic ingredients to keep you fresh all day. Finally, a natural deodorant that actually works.
Not only is Edens Garden's latest product release all-natural but baking soda- and aluminum-free, making this deodorant a must for those looking for a deodorizer that is non-irritating to sensitive skin and free of harsh chemicals.
With 5 natural deodorants already available, Edens Garden is expanding their body care collection with 7 new tantalizing aromas. Each new types was handpicked based on customer demand and current aroma trends.
Bringing the natural deodorant collection to a total of 12, the 7 new aromatic varieties are Lemongrass Ylang Ylang, Tangerine Jasmine, Fighting Five, Grapefruit Pink Pepper, Tobacco Patchouli, Yuzu Cannabliss, and Geranium Juniper Berry. From Lemongrass Ylang Ylang's botanical aroma to the warm and grounding notes of Tobacco Patchouli, there's an aroma for everyone.
With the restorative properties of Yuzu Cannabliss, you'll enjoy a myriad of anti-inflammatory and analgesic components to soothe the body and mind. Enjoy this musky aroma that includes citrus notes that'll surely invigorate the senses. While others may prefer something sweet, Edens Garden's Tangerine Jasmine Natural Deodorant is an enchanting combination of fancy florals and tart. Perfect to carry you from day into night.
Not only are the aromas fresh and clean but contain only the highest ingredients available. The deodorant collection is completely free of aluminum, baking soda, parabens, phthalates, gluten, synthetic fragrances, and artificial colors. Each deodorant is beautifully packaged and ready to keep you fresh through the spring, summer and seasons beyond. Each deodorant is beautifully packaged and ready to keep you fresh through the spring, summer and seasons beyond.
All natural deodorants are available at edensgarden.com for $11.95.
About Edens Garden
Edens Garden was formed in 2009 with the intent to provide high-quality, pure essential oils at affordable prices. Since that time, the online company has grown to include a large variety of single oils, synergy blends, carrier oils, body oils, natural bar soap, salt soaks, perfumes, room sprays, candles and deodorants. Unlike many other aromatherapy brands, Edens Garden is a non-MLM company that sells directly to consumers. Through organic growth, Edens Garden has satisfied more than 1 million loyal customers. Known for a range of expertly formulated blends, Edens Garden has worked with some of the biggest names in the natural industry, including Schmidt's Naturals. To find out more about Edens Garden visit edensgarden.com or follow Edens Garden on Facebook, Instagram and Twitter.