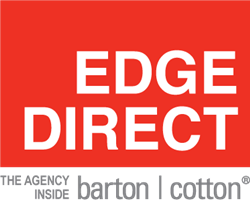 BALTIMORE (PRWEB) October 13, 2020
Edge Direct, a Moore company, has received four MAXI Awards from the Direct Marketing Association of Washington (DMAW). Edge Direct is a leading fundraising agency serving some of the world's best-known causes.
Edge Direct projects awarded include:

Shriners Hospitals for Children® Giving Tuesday Multi-Channel Digital Campaign
National World War II Museum Flame of Freedom Appeal
Commemorative Air Force® Year End Personalized Labels and Aircraft Cards Appeal
Daughters of the American Revolution Commemorative Scarf Campaign
"Thank you to the DMAW for the incredible recognition of our work," said Kathy Calta, president of Edge Direct. "The MAXI Awards are a great opportunity to celebrate our talented team, but more importantly what we have accomplished for our amazing clients."
DMAW's MAXI Awards recognize and showcase the DMV's finest professionals, agencies, tactics, and campaigns. Edge will be among the winners honored at the 2020 Virtual MAXI Awards on Thursday, November 5, 2020, 5:30 – 6:30 p.m.
"We are incredibly proud of the work Edge Direct produces for their clients," said Gretchen Littlefield, chief executive officer of Moore. "We want to thank the DAMW for giving the industry the opportunity to showcase talent and for winners like Edge Direct to be recognized for results achieved through strategy and data-driven marketing practices."
About Edge Direct
Edge Direct is a full-service direct response agency that crafts and executes multichannel programs to cultivate donor giving and maximize net revenue. Our progressive approach to the integration of fundraising strategy, data, technology, creative and execution across all channels, is always mindful of the higher purpose we serve and makes us a recognized market leader in fundraising and brand-raising. Our mission is to help our clients inspire, engage, and grow donor support to maximize long-term donor value.
About Moore
Moore is a global leader in performance-driven marketing solutions focused on all facets of the consumer experience. Comprised of 35 companies with more than 2,600 employees, Moore is dedicated to helping clients fulfill their missions. The organization provides services including strategic consulting, creative development, media planning and buying, research and analytics, production management and product fulfillment, database services and public relations to nonprofit, association, commercial and government clients, and is a key contributor to strengthening these sectors.