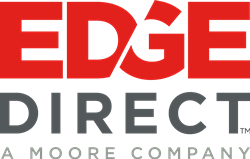 BALTIMORE (PRWEB) May 04, 2021
Edge Direct, a Moore company, announces the promotions of Karen Jones to senior vice president of Client Services and Diane Dotterweich to vice president of Catholic Fundraising. These promotions align with Edge Direct's commitment to deliver exceptional insights, service and marketing solutions to their nonprofit clients.
"I'm thrilled to announce the promotions of two remarkable employees, who have spent their careers serving nonprofits, to roles that ensure exceptional service to the causes we serve," said Kathy Calta, president of Edge Direct. "Karen has championed the Agency's explosive growth by leading her team in ensuring high-quality campaign management, while Diane has played an integral part in providing products for daily ministry and fundraising programs within the Catholic market. We are excited to see them continue to flourish within these promotions."
Jones has dedicated her professional career to the support of nonprofit causes and today leads the talented Client Services team at Edge Direct. Her commitment to delivering exceptional results and service to clients is exemplified through her focus on effective campaign and production management, budget compliance, and quality control.
In her newly expanded role, Jones will oversee the integrated management of multichannel campaigns and continue to manage the dedicated account teams focused on Campaign Management, Direct Mail Agency and Catholic Fundraising.
"I believe in the power of philanthropy to transform communities, which is why I have dedicated my professional life to the nonprofit industry," said Jones. "I look forward to the advancement of Edge Direct's nonprofit missions through the use of my knowledge, enthusiasm and passion."
Dotterweich, now vice president of Catholic Fundraising at Edge Direct, has worked with Catholic churches and organizations for more than two decades. She started in the Religious Products division, which serves thousands of Catholic organizations. In her 20+ years with the company, Dotterweich has taken on the responsibilities of sales, marketing, and driving the creative and management of direct mail programs for the Catholic catalog group.
In her new role, she will lead the newly formed Catholic Fundraising group of Edge Direct, which includes the Catholic products catalog business.
A leading agency for nonprofits and associations, Edge Direct represents some of the most recognized nonprofit brands in the country. To learn more about Edge Direct, visit EdgeDirect.com.
About Edge Direct
Edge Direct is a full-service direct response agency that crafts and executes multichannel programs to cultivate donor giving and maximize net revenue. Our progressive approach to the integration of fundraising strategy, data, technology, creative and execution across all channels is always mindful of the higher purpose we serve and makes us a recognized market leader in fundraising and brand-raising. Our mission is to help our clients inspire, engage, and grow donor support to maximize long-term donor value.
About Moore
Moore is a global leader in performance-driven marketing solutions focused on all facets of the consumer experience. With over 3,000 employees in 36 locations across the country, Moore is dedicated to helping clients fulfill their missions. The organization provides services including strategic consulting, creative development, media planning and buying, as well as research and analytics, production management and product fulfillment, database services and public relations to nonprofit, association, commercial and government clients and is a key contributor to strengthening these sectors.