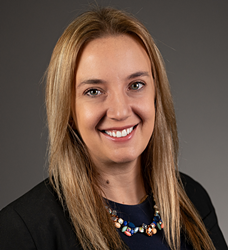 BALTIMORE (PRWEB) April 19, 2021
Edge Direct, a Moore company, announces the promotion of Margaret Chialastri to vice president of development and integrated direct response. In her expanded role, Chialastri will serve as the Agency lead for one of Moore's largest enterprise clients while continuing to lead Edge Direct's digital practice.
Appointing Chialastri to this position aligns with Edge Direct's commitment to deliver integrated multichannel direct response fundraising and marketing success to their nonprofit clients. Chialastri will work across the Moore enterprise to design and implement cohesive direct response and marketing solutions that maximize fundraising and brand awareness in support of client missions.
"Margaret is a skilled marketer and agency executive with a passion for our clients and delivering transformative results," said Kathy Calta, president of Edge Direct. "During her tenure with Edge Direct, Margaret helped to build our digital practice, provided integrated marketing leadership, and established herself as a recognized industry leader in the nonprofit sector."
With more than 15 years of experience in driving marketing strategies in the corporate and nonprofit sectors, Chialastri has been a leading force in the growth of Edge Direct's client results. In her new role, she will provide clients with an omnichannel view of all their programs, leading optimization efforts to maximize results.
"Edge Direct has built a culture of caring," shared Chialastri. "Caring about our clients' missions, caring about building the best team in the business, and caring about leading with thoughts and actions in the industry. I've been empowered to make a difference and I look forward to continuing to positively impact all of our clients and their missions."
A leading agency for nonprofits and associations, Edge Direct represents some of the most recognized nonprofit brands in the country. To learn more about Edge Direct, visit EdgeDirect.com.
About Edge Direct
Edge Direct is a full-service direct response agency that crafts and executes multichannel programs to cultivate donor giving and maximize net revenue. Our progressive approach to the integration of fundraising strategy, data, technology, creative and execution across all channels is always mindful of the higher purpose we serve and makes us a recognized market leader in fundraising and brand-raising. Our mission is to help our clients inspire, engage and grow donor support to maximize long-term donor value.
About Moore
Moore is a global leader in performance-driven marketing solutions focused on all facets of the consumer experience. With over 3,000 employees in 36 locations across the country, Moore is dedicated to helping clients fulfill their missions. The organization provides services including strategic consulting, creative development, media planning and buying, as well as research and analytics, production management and product fulfillment, database services and public relations to nonprofit, association, commercial and government clients, and is a key contributor to strengthening these sectors.