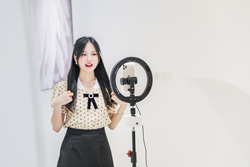 Follow is like your personal mini, socially-distant cameraperson.
SAN GABRIEL, Calif. (PRWEB) November 10, 2020
Today, Edgee launched Follow, a phone mount that uses facial recognition to keep users in frame when filming. It includes a ring light and acts as the perfect companion for effortless video streaming for content creators, influencers, conference call attendees, presenters and streamers. It is now available for pre-orders on the company website starting at $29.99 USD.
Follow uses an embedded AI chip for fast and accurate facial recognition. Unlike most competitors who require at least 50cm to track, Follow can track movement from 10 cm to 4 meters' distance. Users simply mount their smartphone and hit record on the phone camera or any existing app they wish to use. As the user moves around, Follow continuously registers their face and keeps them perfectly in-frame throughout the recording process.
"Follow is perfect for content creation or conference calls," said Edgee founder Mark Peng. "Whether you're filming an Instagram Live, creating video content for YouTube, or streaming a Zoom call, it creates professional, high quality footage without needing another person in the room with you."
Follow features an LED ring light to ensure high quality images and video and a double tripod mount on both the top and bottom of the device, which allows users to customize how and where they want to use Follow.
Other face-tracking phone mounts require use of their own app which then stores user data, connects to wireless networks, and locks the smartphone's camera. To avoid these fallbacks, Follow's facial recognition is completely localized to prioritize accuracy and security.
Follow's camera and AI chip run independently without connecting to WiFi or Bluetooth. Since it doesn't have any wireless functions, it's impossible to access it remotely. It does not store images and only keeps facial images in its temporary memory during use. The data is then discarded immediately after processing or if the unit is powered off.
Also unlike other mounts, Follow doesn't rely on infra-red, which is easily fooled by heat; this allows for extra fast and accurate tracking.
"In today's world of social distancing, online communication, and a competitive content market, Follow is a perfect tool to make filming yourself more intuitive and streamlined," said Peng. "It's like having a mini, socially-distant cameraperson with you."
Follow is now available on the company website starting at $29.99 USD. Media wishing to interview Edgee personnel can contact PR agent Borjana Slipicevic at borjana@properpropaganda.net.
About Edgee
Edgee is a Hong Kong-based team of experienced mechanical engineers and programmers. The idea for Follow came about when the team was streaming repair demonstrations via video call to their customers. They weren't able to keep their entire work bench in frame so they had to constantly manually turn their phone. To change that, they decided to build their own automatic tracking phone mount and realized it would also be perfect for consumers: Follow was born.