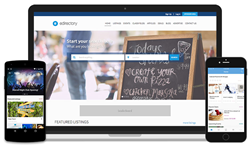 "With the rise of online entrepreneurship, people are looking to prove their concepts with lean budgets, and now with the drag and drop features within eDirectory clients know they can get up and running quickly and easily" -James Chubb CEO eDirectory.com
Annandale, VA (PRWEB) May 30, 2017
eDirectory.com the global leader in online directory software solutions, has been helping thousands of clients in over 39 countries launch their own recurring revenue-based community, membership and online directory websites since 2003. eDirectory.com helps clients bring people together online, one directory website at a time. Examples include buyer's guides, industry portals, local business directories, national vendor registries, chambers of commerce, niche service provider sites, classified ad sites, property databases, business opportunity registrars, among other use cases.
The expansion of the product for Latin America now means that Portuguese and Spanish are fully supported at eDirectory.com to give online entrepreneurs South of the American border the opportunity to launch an online directory website Enterprise with an integrated APP, open API, SEO Center, and the support of eDirectory's global success teams.
The new page editor is a widget-based front-end system that allows users of any technical background to have the look and feel that works best for their online directory website. With hundreds of widget combinations available throughout the website, clients have the option to make any design changes needed on the fly.
The upgraded version of the integrated mobile app means clients will have all of the latest and greatest the eDirectory website software has to offer in the mobile app version. eDirectory.com is the only directory software that has an integrated mobile APP, saving clients hundreds, even thousands of dollars per year. Now, it is even better.
eDirectory helps create online entrepreneurs all over the world with the easy-to-use dashboard, a beautiful site that has been built 90% of the way, and all the essentials in one place for generating revenue from multiple streams using the directory website business model. Multiple revenue streams created by online directory websites include membership dues, banner ad services, lead generation, affiliate marketing, e-commerce, and sponsorship dollars.
"With the rise of online entrepreneurship, people are looking to prove their concepts with lean budgets, and now with the drag and drop features within eDirectory, clients know they can get up and running quickly and easily" -James Chubb, CEO at eDirectory.com. For the more advanced users, self-hosting, source code access, and an open API make it even easier to launch an online Enterprise that scales up with your directory business plan.
With so many uses cases and applications it begs the question: what will the next client build with eDirectory.com?
eDirectory.com, global leader in online directory software solutions, powers thousands of sites all over the world, with dozens of new sites launched every week. The goal is always to help clients get closer to their online directory goals, one site at a time, with the full support and guidance of a global team. This ensures community members realize the greatest opportunities to achieve success with their online directory websites.
Headquartered in Washington DC.
https://www.eDirectory.com
1-800-631-4694