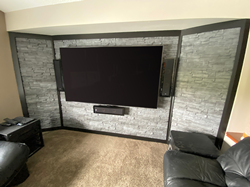 "The NovikStone application alone only took about five hours and the installation went amazingly well. It really is an awesome product that helped transform our great room into a beautiful place for us to gather." -- -- Allen Menard, founder of Touch Control Automation
QUEBEC CITY (PRWEB) June 29, 2022
Allen Menard, founder of Touch Control Automation, an Edmonton, Alberta-based business, specializing in custom home theaters and audiovisual (AV) setups, selected NovikStone to transform his own home's entertainment system.
In 2009, Menard teamed up with fellow AV professional, Douglas Charrois, to adapt complex specifications for sophisticated, high-end boutique audio systems and board room audio/camera systems. For more than a decade, the dynamic pair have used their wide range of complementary skills to provide Touch Control clients with innovative solutions. He and Charrois tackled his own custom entertainment room to create a rich, textured new look.
Menard and his wife Linda decided to create an expansive home theater in the great room of their Edmonton home that would include an over-sized screen with a high-quality sound system. Part of the plan included the removal of an infrequently used fireplace, which would leave a cavernous opening in the wall. This is where Doug's building expertise came in handy.
"That space was made up of almost 30% angles," said Menard. "Even though Doug is a talented builder, cutting real stone for those tight angles would have resulted in lots of broken blades and much higher costs."
After considering various material options, Menard discovered NovikStone, which is manufactured by Canadian-based Derby Building Products. Though NovikStone is designed for exterior usage, Menard saw the potential for creating an appealing indoor aesthetic.
"The decision was final once I set the panels near the wall, and showed my wife," he said. "She immediately loved it, and we both appreciated how quickly and efficiently it could be installed. With Doug on the project, we were thankful that the job would be done properly in our own home."
Since NovikStone, a polymer product, is lightweight yet rigid enough to easily cut with standard carpentry tools, Menard and Charrois were able to configure and integrate the various technical equipment components and NovikStone panels with minimal hassle.
"We found the material so easy to work with and quick to install," Menard noted. "Doug viewed the installation videos and followed those directions. We installed the starter strip at the bottom of the wall, then inserted panels into the strip. From there, we worked upward, snapping the panels together, cutting to the angles and then fastening. We didn't need a wet saw, just a jigsaw."
With the wall built, they mounted the 85-inch screen as a central focal point for the room.
"After the screen was in place, we saw-cut the MDF edge frame and made a slot for the additional NovikStone underneath, so it would appear seamless," he said.
NovikStone is available in three profiles including Dry Stack Stone, which the Menards chose to mimic the intricate detail of precision-laid stone. Available in eight colors, the couple decided on Anthracite, a gray shade with subtle tones like the stone for which it was named. Accentuated by the black MDF trim, the result was the perfect blend of modern and rustic charm — exactly the look Allen and his wife were envisioning for their high-tech wall.
Although the new setup was designed for both business and pleasure, Menard explained that video conference calls have lately taken on more personal significance for the family.
"Under the television, we placed a speaker and a small 4k camera, which connects to the screen from a laptop keyboard. Now, when we connect with family, friends or colleagues, we can close the blinds and feel like we're in the same room with them. With so much separation in the past few years, that was very important."
As home and commercial automation experts, Menard and Charrois are highly tuned in to the fast-paced changes occurring in the audiovisual industry.
"We upgraded this room with 4K Samsung and 5.1 audio and will later add more speakers to make it 9.2 Atmos audio," Menard explained. "We built the wall out about a foot, creating holes for the wire and then used plastic conduits or pull strings in case we need to ever re-wire. The lightweight, flexible nature of NovikStone allows for easy future access to the wiring."
To the Menards delight, the entire project took only five days, with most of that time devoted to demolition of the outdated fireplace.
"The NovikStone application alone only took about five hours," Menard recalled. "The installation went amazingly well — it really is an awesome product that helped transform our great room into a beautiful place for us to gather."
About Novik
The Novik brands, NovikStone® and NovikShake®, are game-changing exterior building materials manufactured by Derby Building Products in Quebec City, Canada. Novik is a vinyl siding complement as well as a DIY-focused brand in the home improvement retail channel. All Novik products are impervious to moisture making them an excellent choice for gable, roofline, and ground contact applications. They are also easy to install and work perfectly in mixed material exteriors. Visit http://www.novik.com or like us on Facebook at Novik; and visit the new NovikStone YouTube page here.