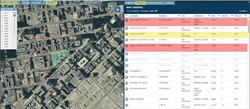 "EDR Lightbox helps alleviate the mounting pressure on consultants and engineers to deliver quality due diligence services at the pace of the frenetic commercial real estate industry."
Shelton, Connecticut (PRWEB) May 03, 2016
EDR has announced innovations that will change the fundamentals of environmental due diligence. With today's launch, EDR empowers environmental consultants and engineers to do their best work faster.
The company has relaunched EDR Lightbox®, which provides environmental due diligence professionals the ability to filter and highlight records, collaborate with colleagues, review historical imagery, and interact with Tax Parcel Maps all in one place.
"In my 20 years in the industry, there has never been a tool with the potential to so positively impact property due diligence," said Joe Burstiner, managing director at EDR. "EDR Lightbox helps alleviate the mounting pressure on consultants and engineers to deliver quality due diligence services at the pace of the frenetic commercial real estate industry."
Lightbox has been updated and streamlined, with more content and an intuitive interface. "Based on what we've heard from beta-testers, environmental consultants can save hours per project and increase their accuracy using Lightbox when compared to traditional review methods," Burstiner noted.
EDR has further improved the data review process by providing Property Boundaries on Historical Sources. Due diligence professionals can now quickly identify subject property boundaries on historical imagery, considerably reducing the review time of Aerial Photography, Sanborn Maps® and Topographic Maps.
In addition to today's launch, EDR has also revealed it will move away from traditional geocoding as it rolls out significant changes to mapping next month. With Property-Based Geocoding, EDR connects environmental records to actual property locations, not just points along a street. The result will be higher quality property due diligence and faster research.
"We strive to make our customers more competitive and profitable, fueling their efficiency while, at the same time, increasing quality," said EDR Chief Executive Officer Chris Aronson. "I'm extremely proud of these achievements and excited about the new value we are bringing our customers."
EDR will host a web event detailing these updates on Thursday, May 5 at 1pm Eastern. Event registration can be found here.
About EDR
EDR serves the entire commercial real estate ecosystem delivering workflow technology and data. For over 25 years, EDR's goal has been to offer tools and reports that make the work of environmental due diligence professionals more efficient, effective and enjoyable. Its database contains over 3.1 billion historic records, including the most comprehensive repository of environmental and land use information in the United States. EDR also conducts market research and shares strategic industry intelligence through a variety of online channels and in-person events. Headquartered in Shelton, Connecticut, EDR has regional offices located throughout the country. The company is a subsidiary of DMGI, which is wholly owned by the Daily Mail and General Trust, plc (DMGT).