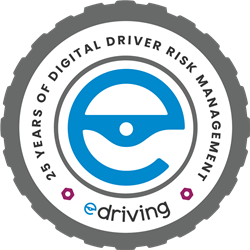 It is an honor and a privilege to support our clients' missions to protect their employees and their families, as well as the communities in which they live and work.
CAPE MAY, N.J. (PRWEB) February 04, 2021
Having started out with just seven employees in Huddersfield, United Kingdom, in 1996, today eDriving employs over 120 "wizards" in 9 offices around the world, helping organizations to successfully manage the risks associated with driving for work purposes. In addition to its US Headquarters in New Jersey, and the UK office in West Yorkshire, eDriving has opened new offices in China, Romania, and Ireland in the past year. Its Global Customer Success Network provides support to approximately 1.2 million drivers in over 100 countries.
To mark its Silver Jubilee, eDriving is proudly sharing some of its many milestones as it has helped shape the digitalization of driver risk management over the last quarter-century.
1996 – Launching an Industry First
In February 1996, eDriving is established by Ed & Sue Dubens and their founding partner, Andy Cuerden, and is soon celebrating four landmark events – its first global partnerships with the mighty Zurich Risk Engineering and Institute of Advanced Motorists; a contract with British Armed Forces Land Command to help them create digital driver training materials; and the launch of the world's first defensive driving CD-ROM for business – Interactive Defensive Driving!
1998 – Proactively Assessing Driver Risk
eDriving creates the world's first proactive driver risk assessment, RoadRISK®, to help clients start to understand who their most "at-risk" drivers are. First-round validation work is led by the amazing, late Dr. Will Murray from the Transportation & Logistics Department at Huddersfield University. To this day, RoadRISK® analytics help clients worldwide to understand the risks their employees face while driving for work purposes, benchmark progress, and plan risk reduction strategies.
2000 – Expanding to the United States
eDriving expands to the United States, with the relocation of Ed Dubens and his family from the UK to Cape May, New Jersey, resulting directly from the company's partnership with Zurich Risk Engineering supporting their auto insurance book of business.
2001 – Creating the Next Generation Driver Risk Assessment
eDriving creates the first generation DriverINDEX® predictive modelling methodology to help clients more accurately identify their most at-risk drivers in near real-time. An all-in-one driver performance management system, DriverINDEX® integrates driver performance data from various sources (including 3rd parties) into ONE single system, providing clients with an unprecedented, unified view of total driver risk across an organization. Today DriverINDEX® can include drivers' incident, collision, license violation, telematics and RoadRISK® data, as well as their FICO® Safe Driving Score!
2002 – Pioneering the Closed-Loop Approach to Driver Risk Management
eDriving launches its flagship risk management platform, Virtual Risk Manager® (VRM), a holistic, integrated driver risk management approach, designed to help clients create and nurture a crash-free culture®.
2004 – Gaining Royal Recognition
eDriving's work with telecommunications giant BT, and logistics powerhouse TNT, results in the company's first Prince Michael Road Safety Award. In the same year, eDriving successfully acquires the patent for its closed-loop methodology and approach to driver risk reduction.
2007 – 2013 Going Global!
By 2007, eDriving is operating in 96 countries in 45 languages. In 2010, VRM registers its 500,000th active driver and just three years later reaches its 1,000,000th active driver.
2014 – Achieving Accreditation for Data Protection and Privacy
The VRM platform receives ISO 27001 accreditation from BSI, an internationally-recognized standard that defines best practice for an Information Security Management System. eDriving has since maintained this standard, thanks to its commitment to protecting its clients' employee information in accordance with global best practice.
2017 – Mentor Takes Center Stage!
eDriving launches Mentor by eDriving, a unique smartphone app that not only identifies risky driving behavior, but also remediates it with in-app micro-training and coaching. As a result of eDriving's exclusive partnership with industry analytics leader FICO®, drivers receive an individual FICO® Safe Driving Score, validated to predict the likelihood of a driver being involved in a collision.
2020 – Mentor is Changing Behaviors and Reducing Driver Risk
eDriving's Mentor app has traveled over 1.5 billion miles and its ability to improve and sustain changes in behavior behind the wheel is confirmed! High-risk drivers are achieving the greatest improvement – an average of 32% over 6 months, and 38% over 15 months!
2020 – Helping Clients Protect their Drivers from COVID-19
While the eDriving wizards adjust to "working from home" across the world, eDriving launches complimentary eLearning and support materials for all businesses worldwide (client and non-client) to protect their drivers who are helping to keep the world moving forward during the pandemic – eDriving's message to these drivers: "we salute you all!"
2021 – Celebrating 25 years with Exciting Product Launches
As eDriving celebrates 25 years of successful driver risk management in 2021, the company is eagerly anticipating the launch of additional products and features this year. Coming in 2021: Mentor Vision, which incorporates a dashboard camera into the Mentor eco-system; a windshield "tag" for additional driver behavior insights; and enhanced versions of the FICO® Safe Driving Score to broaden its ability to identify and benchmark risky behavior behind the wheel and handlebar!
"We are absolutely delighted and proud to be celebrating our Silver Jubilee this year," said Ed Dubens, Founder/CEO of eDriving. "What an exciting journey this has been and continues to be! From our humble beginnings back in 1996 with a handful of employees working with paper and CD-ROM, to the business we have today working in the cloud and on smartphones, with over 120 wizards supporting over 1,000,000 drivers and riders across the world, eDriving has certainly come a long way! It is an honor and a privilege to support our clients' missions to protect their employees and their families, as well as the communities in which they live and work. We look forward to the next 25 years to do all we can to help keep roads across the world as safe as possible for all drivers, riders and pedestrians."
About eDriving
eDriving helps organizations to reduce collisions, injuries, license violations and total cost of fleet ownership through a patented digital driver risk management program.
Mentor by eDriving is a smartphone-based solution that collects and analyzes driver behaviors most predictive of crash risk and helps remediate risky behavior by providing engaging, interactive micro-training modules delivered directly to the driver in the smartphone app. As part of a broader risk management platform, Virtual Risk Manager®, eDriving provides organizations with everything they need to establish safety as a strategic imperative, and support drivers and managers as they strive to create a crash-free culture®.
eDriving is the digital driver risk management partner of choice for many of the world's largest organizations, supporting over 1,000,000 drivers in 96 countries. Over the past 25 years, eDriving's research-validated programs have been recognized with over 100 awards around the world.
For more information, visit http://www.edriving.com.