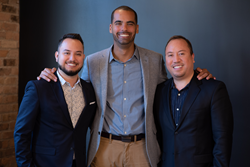 Our investors know business success and social impact aren't mutually exclusive and walk the talk of equity in venture capital by championing entrepreneurs like us.
CHICAGO (PRWEB) September 16, 2021
Chicago-based EdTech company, Innovare - Social Innovation Partners, Inc., announced that it has raised $3MM in seed funding to scale its impact on education leadership via its cloud-based strategy and analytics platform Inno™. The round was led by VamosVentures of Los Angeles who invests in diverse founders that offer unique tech-driven solutions to address systemic social issues. Innovare's cap table also includes LGBTQ+ syndicate Gaingels, Midwest-focused Propellant Ventures, women-of-color-powered fund Portfolia, Latina-founded Chingona Ventures, and influential angel investors with strong ties to the education and social impact sectors such as Deborah Quazzo, Angel Morales, Scott Morgan, Amanda Fernandez, Kerrien Suarez, Carlos Antequera, and Chris McGowan.
Innovare was founded in July of 2017 to meet the unique needs of K-12 education administrators and executives in nonprofits. The company's web-based application Inno™ aggregates the siloed data of K-12 schools such as student information systems, standardized assessments, attendance, reading and math ed-tech programs, and Google spreadsheets, into one personalized dashboard. It also guides leadership teams to develop better strategies, build a continuous improvement culture, and measure real-time impact using the synthesized data. In nonprofit organizations, the application is used by executive directors and boards to visualize impact data, manage key initiatives, and measure return on investments.
VamosVentures' Founder and Managing Partner, Marcos C. Gonzalez, stated, "Innovare's understanding of and commitment to supporting our education system with its strategy and analytics software is impressive—and supports our mission. Accompanied by our support as lead investor, we look forward to enhancing the impact Innovare can make for leaders across the education ecosystem." The firm's investment in Innovare, out of its $50MM fund supported by Apple, Twitter, PayPal, Bank of America, and others, is its largest to date and its first in education technology.
"​​When we look for companies to invest in, we assess the chingón/a factor - finding founders that have personally experienced their pain point, have unique experiences that help them understand their core customer, and in some cases have been able to show early validation that customers want to pay for the product. Innovare has shown all three of these points - all before receiving any venture capital investment. We've known the founders for many years and have seen Innovare grow even during COVID. We've continued to be impressed by how the team has applied their domain expertise and the continued positive feedback from their customers. We are excited to support their explosive growth and look forward to future success," said Founder and Managing Partner of Chingona Ventures, Samara Mejia Hernandez.
Portfolia's Karen Kerr shared, "school districts across the country are collecting vast amounts of data in an attempt to enhance equity in education. For that data to drive change, it's essential for education leaders to see how it all relates and to leverage the data to inform strategy and track outcomes at the school level. Innovare's innovative strategy and analytics platform allows school leaders to collaboratively design strategies that will positively impact their students, ultimately creating a more equitable learning experience for all."
Myranda S. Marsh, Ed.D., Executive Director and Founder of James Jordan Middle School, a charter school in Los Angeles, stated, "Innovare has been a great partner in managing data during the era of alternative assessments in California. We needed to show multi-year data from before and during the pandemic school closures. Innovare saved us a ton of administrative time by organizing our data into visual graphics that we can show to our authorizer, our Board, and the community."
"Our investors know business success and social impact aren't mutually exclusive and walk the talk of equity in venture capital by championing entrepreneurs like us. They also share our excitement about our tech solution's ability to drive positive impact on our society by empowering education and nonprofit leaders with a time-saving and user-centered data and strategic planning application," said AJ DeLeón, Co-Founder and CEO, whose experience in the nonprofit, education and philanthropic sectors including working for Chicago Public Schools and the Gates Foundation spans more than two decades. Innovare's founding team also includes President, Nicholas Freeman, MBA, who is a former Chicago Public Schools data strategist, and Chief Growth Officer, Fernando DeLeón, who is a former Google Product Development Program Manager and Accenture Management Consultant. Beyond the founders, the company's diverse and accomplished team includes a majority of former educators, women, and people of color.
Innovare will use the capital raised to expand its user base across the United States and internationally. Also, the company will further enhance its proprietary app's IP and competitive advantage by leveraging machine learning, building a mobile version, and launching a "one-stop-shop" marketplace for education leaders and nonprofit executives to collaborate and buy vetted solutions to their most pressing problems.
For more information, visit the new Innovare - Social Innovation Partners, Inc. website at http://www.innovaresip.com and follow Innovare on Twitter, LinkedIn, Facebook, and Instagram @innovaresip