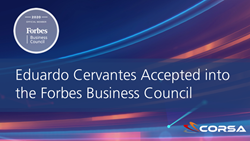 "We are honored to welcome Eduardo into the community. Our mission with Forbes Councils is to bring together proven leaders...
OTTAWA, Ontario (PRWEB) December 02, 2020
Corsa Security, a leader in scaling network security, today announced that its CEO and Board Chair, Eduardo Cervantes has been accepted into the Forbes Business Council, the foremost growth and networking organization for successful business owners and leaders worldwide. Eduardo was vetted and selected by a review committee based on the depth and diversity of his experience. Criteria for acceptance include a track record of successfully impacting business growth metrics, as well as personal and professional achievements and honors.
"We are honored to welcome Eduardo into the community," said Scott Gerber, founder of Forbes Councils, the collective that includes Forbes Business Council. "Our mission with Forbes Councils is to bring together proven leaders from every industry, creating a curated, social capital-driven network that helps every member grow professionally and make an even greater impact on the business world."
As a member of the Council, Eduardo will connect and collaborate with other respected leaders in a private forum and at members-only events. He will also be invited to work with a professional editorial team to share his expert insights in original business articles on Forbes.com, and to contribute to published Q&A panels alongside other experts.
"Joining the Forbes Business Council is a true honor," said Eduardo Cervantes, CEO of Corsa Security. "I am very excited about the opportunities this presents to learn from a community of top business leaders. I believe in lifelong learning and look forward to bringing new insights to my work at Corsa Security, which will help them grow and become a visionary leader in the cybersecurity market."
This is the third industry recognition for Corsa Security and its team in the past three months. Corsa Security was recently named a 2020 Red Herring Top 100 North America Winner, which recognizes the continent's most exciting and innovative private technology companies. In September, Corsa Security was selected by TAG Cyber as a Distinguished Vendor in the 2021 Security Annual for the third year running.
About Forbes Councils
Forbes Councils is a collective of invitation-only communities created in partnership with Forbes and the expert community builders who founded Young Entrepreneur Council (YEC). In Forbes Councils, exceptional business owners and leaders come together with the people and resources that can help them thrive. To learn more about Forbes Councils, visit forbescouncils.com.
About Corsa Security
Corsa Security is the leader in scaling network security with the first turnkey network security virtualization platform that simplifies how large enterprises and service providers expand traffic inspection, increase threat protection and automate firewall virtualization, at much lower total cost of ownership (TCO). By tightly integrating virtualization with intelligent orchestration, Corsa Security streamlines deployment, management and migration of virtualized next generation firewalls (NGFW) for zero-touch network security operations. Customers subscribe to the Corsa Security services based on their current needs and then pay as they grow while never having to deal with the infrastructure. Learn how Corsa Security is revolutionizing network security at corsa.com.