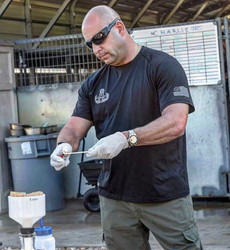 The question is no longer if something is going to happen, but when
GETTYSBURG, Pa. (PRWEB) September 18, 2018
While an excessive amount of news coverage in recent months has focused on the emergence of 3D-printed guns, a much bigger potential danger imperils our national security.
Bombings using homemade explosive (HME) devices have become the dominate method of attack for terrorists and criminals worldwide, leading to an urgent operational need for increased awareness and training in the United States. The use of an explosive device against civilian targets is one of the most serious potential threats faced by Americans today.
The reason for this is simple. Explosive materials are readily available, and creating a destructive homemade device does not take a lot of high-tech knowledge. In fact, the basics of HMEs can be learned with a quick search on the internet, and the precursors used can be found in most homes. Don't believe it? Go to Google, and type in "sugar as explosive material." (Yes, sugar.)
Law enforcement and first responders—even in small towns and rural areas—are increasingly more likely to encounter this type of hazard while performing routine operations. According to the U.S. Bomb Data Center, there were 14,814 explosive related incidents in 2017 alone, and 335 actual bombings. (https://www.atf.gov/resource-center/docs/report/2017-explosives-incident-report-eir/download)
Tripwire Operations Group, an enterprise founded and run by first responders, is a leading provider of expert level explosive training and products. Located in Gettysburg, Pa., the company offers numerous courses on Homemade Explosives to help familiarize law enforcement and emergency personnel with the chemical precursors associated with improvised/homemade explosive formulations. Working with the simple belief that the most highly trained professionals create a more secure America, the staff at Tripwire is dedicated to creating awareness about the danger and proliferation of HMEs.
"The question is no longer if something is going to happen, but when," said Ryan Morris, Founder and CEO of Tripwire. "We want to make sure that, no matter what occurs, there are trained individuals ready to deal with it."
With an in-house lab and on-site chemist, Tripwire provides hands-on experience, teaching attendees how to recognize, handle and safely operate in environments where chemical precursors and equipment are present. Trainees also have the opportunity to synthesize several mixtures themselves—and then witness the destructive power of these formulations on the demolition range.
The experience, knowledge, and dedication of the Tripwire team—combined with the products, services and training they deliver—provides a skillset that is necessary and indispensable in today's increasingly dangerous world. Since its inception in 2015, the company has given more than 15,000 emergency, military and first responder personnel the expertise and abilities they need to deal with any emergency.
"We train the people that are responsible for other people's lives," Morris said. "Our job is to help them acquire the skills needed to protect theirs."
Tripwire Operations Group has upcoming Awareness-Level and Operational-Level HME courses scheduled for October 16 and 17 at the facility in Gettysburg, located at 1685 Baltimore Pike. Law enforcement agencies, first responders, or others who would like to attend a class or find out more information are invited to call 717-648-2792, or visit tripwireops.org.